Massachusetts electricity users will save about $1.4 billion over 20 years from the first commercial-scale offshore wind farm in the U.S.
Avangrid Inc. and Copenhagen Infrastructure Partners, joint developers of the 800-megawatt project south of Martha's Vineyard, expect to provide power and renewable energy credits for 6.5 cents a kilowatt-hour according to a letter Wednesday from the state Department of Energy Resources.
That's a levelized price in 2017 dollars over the term of the contracts, and makes the Vineyard Wind project about 18 percent cheaper than other alternatives, according to the letter. It's also lower than the wind industry expected and shows that offshore wind can be a competitive source of clean energy as costs continue to come down.
"That's pretty shocking for us," said Tom Harries, a wind analyst at Bloomberg NEF. "I think the wider industry expected much higher prices. The repercussions of this are it will probably awaken a lot of other coastal states to the value of offshore wind."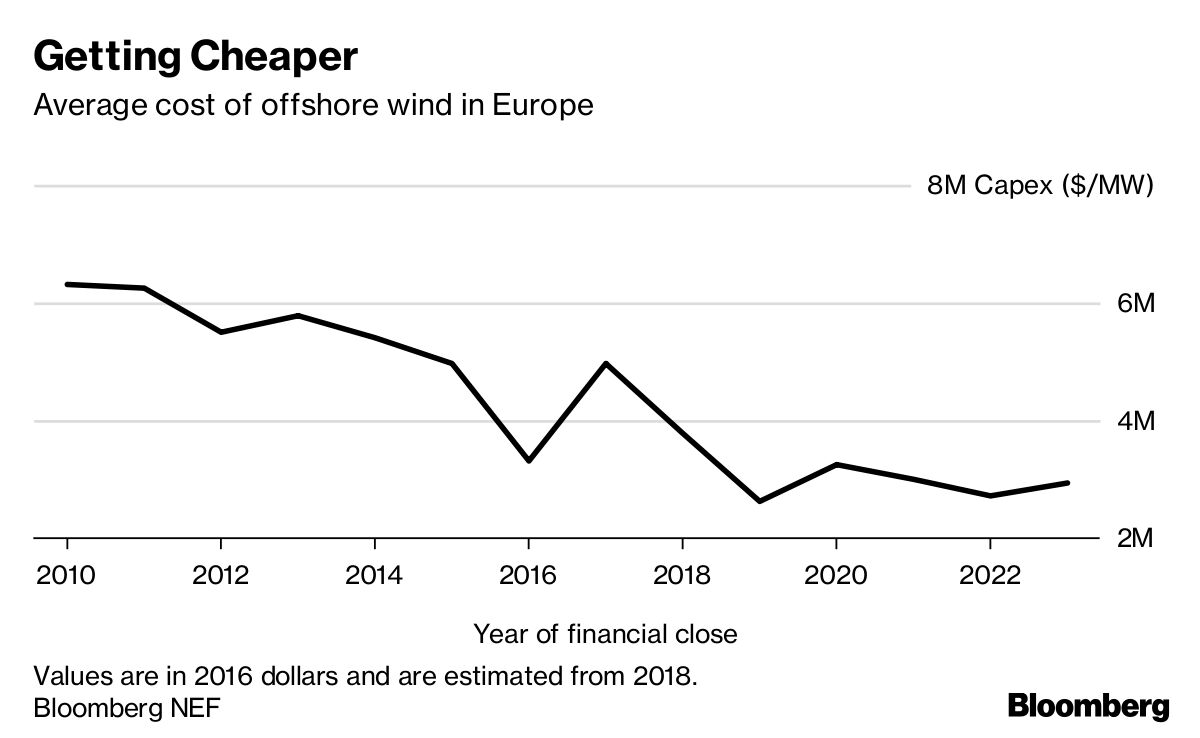 As prices continue to fall, offshore wind is expected to grow by 16 percent annually through 2030, driven by installations in the U.K., Germany, Netherlands and China, according to BNEF. The U.S. is a latecomer to the market, and early projects may cost more than those in Europe, in large part because developers will need to import components for the massive offshore structures, which can be as big as 600 feet (183 meters).
With Vineyard Wind, the U.S. is starting to close the gap, Harries said. While offshore wind is still more costly than onshore wind and solar, it offers other advantages, notably that the turbines will generate power in the winter when prices are high.
Federal tax credits and a long-term power-purchase agreement were part of the equation that helped the wind project "offer an attractive price to the benefit of consumers," Lars Thaaning Pedersen, chief executive officer of Vineyard Wind, said in a statement.
"The general consensus was that it would take a while for new markets to reach levels we've seen in Europe and the U.S. seems to be doing this pretty fast," he said.
The wind farm 15 miles (24 kilometers) south of Martha's Vineyard is expected to deliver power at a price that lowers monthly energy bills by about 0.1 percent to 1.5 percent, according to the letter. Construction is expected to begin in 2019, with the project in operation by 2021, the developers said in May. It will reduce the state's carbon emissions by more than 1.6 million tons per year, the equivalent of removing 325,000 cars from the road.
The contracts between the developers and distribution companies National Grid Plc, Eversource Energy and Unitil Corp. were filed for review Tuesday with the Department of Public Utilities.
Massachusetts has set a goal of installing 1,600 megawatts of offshore wind, enough to power about 1 million homes, by 2027, and lawmakers approved legislation on Wednesday to double that figure. New York, New Jersey and Maryland are also targeting a combined addition of more than 6 gigawatts by 2030.
Deepwater LLC built the first U.S. offshore farm in 2016, the 30-megawatt, $300 million Block Island project off the Rhode Island coast.
"The Vineyard Wind offshore wind generation long-term contracts provide a highly cost-effective source of clean energy generation for Massachusetts customers," according to the Department of Energy Resources' letter.