---
Story Highlights
India has inefficiencies in its power sector that undermines its efforts to end poverty and increase shared prosperity.
A new World Bank report, In the Dark, examines India's entire supply chain from upstream fuel supply to electricity generation and distribution, and consumers
To boost and sustain its energy supply, India needs urgent investments and reforms to target inefficiencies in the entire electricity supply chain.
---
India has made great strides in expanding access to electricity in recent years, as more than 130 million people joined the power grid since 2013.
However, 178 million people in India still lacked access to grid electricity in 2017, and power cuts harm economic production and consumer wellbeing. The 2018 Global Competitiveness Report ranked India 80th among 137 economies in the reliability of electricity supply.
With electricity demand predicted to triple by 2040, India's reliance on coal poses a major pollution problem. According to the Health Effects Institute, exposure to fine particulate matter from coal-powered plants contributed to 82,900 deaths in 2015.
A new World Bank report titled, "In the Dark: How Much Do Power Sector Distortions Cost South Asia," says India's power sector has an "efficiency" gap that costs the Indian economy about four percent of GDP a year, equivalent to $86 billion in fiscal year 2016.
The report goes beyond earlier studies by analyzing the overall societal costs — instead of just the fiscal costs — of subsidies, blackouts and other distortions in the power sector.
It also uses a broader definition of the power sector than past studies, examining the entire supply chain from upstream fuel supply to electricity generation and distribution to downstream access and reliability.
Connecting all of India's population to the grid and expanding the power supply to 24 hours a day would increase the income of rural households by $9.4 billion a year, while eliminating power shortages would prevent an estimated $22.7 billion a year in business losses, the report finds.
According to the report, problems begin upstream in the electricity supply chain. Despite having the world's fourth-largest coal reserves, India fell 14 percent short of meeting coal demand in fiscal year 2016.
"Power sector reforms should be a top priority, as few other reforms could quickly yield economic gains of a similar magnitude. If well designed, reforms will directly benefit the poor by increasing access, improving reliability and reducing cost and emissions."
---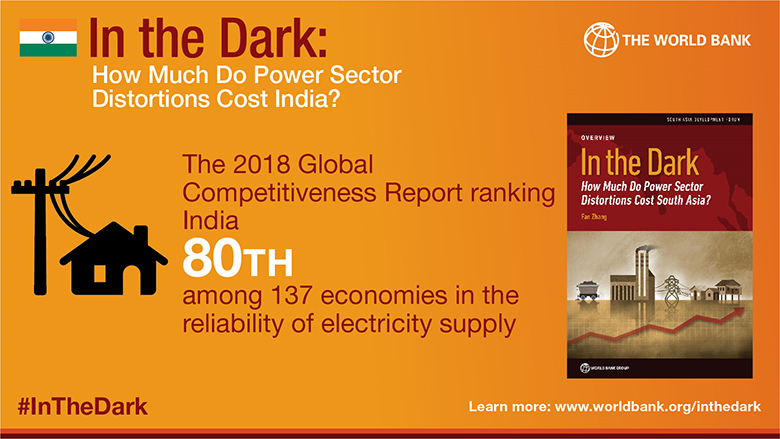 ---
Only one of 10 underground coal mines in India is mechanized, and the average output per labor shift at Coal India's underground mines was less than one ton in fiscal year 2016 — compared to 25 tons in the United States.
Electricity subsidies and inefficient power generation, transmission, and distribution also are factors in power shortages, the report shows. More than 20 percent of electricity was lost in transmission and distribution in fiscal year 2016 — a much higher loss rate than elsewhere in the world.
State government-owned power plants used 16 percent more coal per unit of electricity produced than independent power producers during fiscal year 2000–2012, while power sector cross-subsidies from industry to households and farmers make industrial electricity tariffs less affordable and undermine export competitiveness.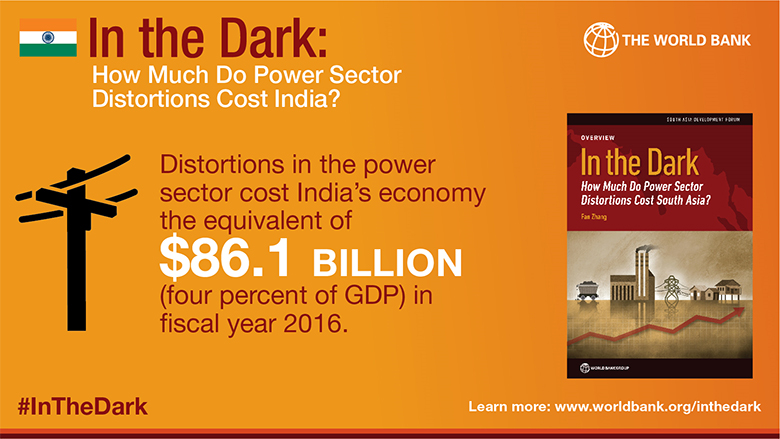 Cheap electricity for agriculture made India the world's largest user of groundwater — a non-renewable resource — with consumption increasing 700 percent from 1950 to 2014.
It recommends reforms to restore market pricing and improve efficiency in the power sector. This will complement traditional investments to increase power supply and expand access to reliable electricity.
Reliable access to electricity also leads to lower use of kerosene lamps and captive power generation, which would improve health and environmental outcomes and contribute to greater gender equality by increasing women's employment and girls' study time.
The report emphasizes avoiding a narrow focus on liberalizing the price of energy, because in the absence of other reforms, inefficiencies in the system would lead to an excessively high cost of electricity, causing distress for the poor and vulnerable.
Reforms should focus on prioritizing efficient coal allocation and delivery, promoting competition in coal and electricity supply, rationalizing energy prices to reflect cost of supply, using incentives to promote more efficient power generation and delivery, and targeting social assistance to help people cope with higher energy prices.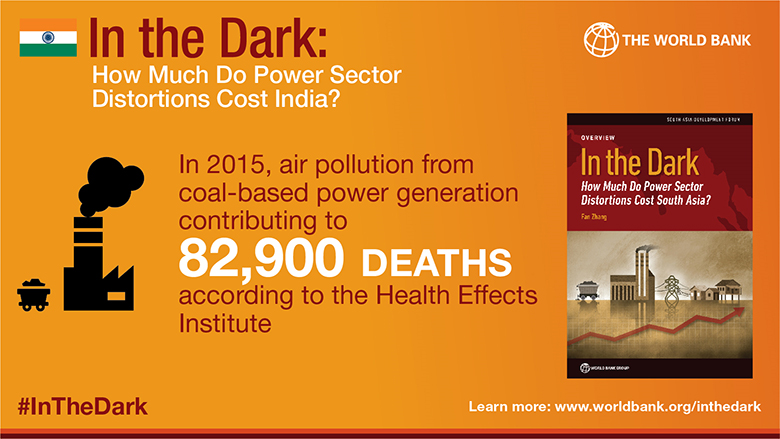 Source: worldbank.org