Opposition leader Bill Shorten pledged A$10 billion ($7 billion) in extra funding for clean energy and steeper cuts to carbon emissions than the government, as he sought to turn tackling Australia's climate change "disaster" into a key election issue.
In a speech at a BloombergNEF event in Sydney on Thursday, Shorten announced initiatives to boost the use of alternative energy and help meet the Labor party's goal for 50 percent of the country's power to come from renewables by 2030.
"Climate change is no longer an emergency. It's a disaster," Shorten said, while criticizing a lack of coherent action by the government.
Labor will also target a 45 percent cut in carbon emissions by 2030, going beyond the existing Paris Agreement goal of a minimum 26 percent reduction from 2005 levels.
Prime Minister Scott Morrison has said he expects to meet Australia's Paris targets comfortably. But he has dropped plans to legislate the cuts amid government infighting, which contributed to his predecessor Malcolm Turnbull being ousted by his own party in August.
The government is critical of renewable sources such as wind and solar, saying they cannot be relied upon. Australia currently aims for 23.5 percent of energy generation to come from clean sources by 2020, but there is no official target beyond that. Morrison's team has announced plans to invest in new coal-fired power plants.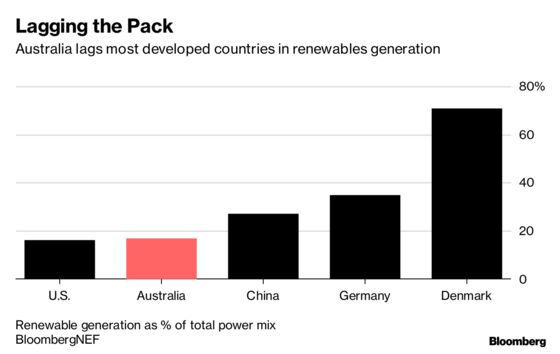 The new energy minister, Angus Taylor, who is focused on getting power bills down, on Thursday attacked Labor's proposals.
These "reckless targets will be a wrecking ball for the economy," Taylor said. 'We won't stand for it."
Opinion polls have consistently put Labor ahead of the ruling Liberal-National coalition ahead of an election expected by May next year. A Fairfax-Ipsos poll this week showed Labor's advantage had narrowed to a 52-48 split on a two-party preferred basis, from 55-45 in October.
The poll also showed that 47 percent of Australians think reducing power bills should be the main priority for the country's energy policy, compared to 39 percent who said the prime focus should be on cutting carbon emissions. The survey underlines Shorten's challenge in targeting the green vote.
Other key details from Shorten's plan:
Labor would seek to re-introduce the National Energy Guarantee if it wins office and take a bi-partisan approach for it to pass parliament
The party plans to provide an additional A$10 billion in capital to the Clean Energy Finance Corp. over five years, to support large-scale renewable generation and storage projects
It would establish a A$5 billion fund to upgrade transmission and distribution systems
A Labor government would also help underwrite clean energy projects
"Labor's policy zooms ahead of the coalition," said Amanda McKenzie, acting chief executive officer of the independent research body, the Climate Council. "This investment would be a huge boost for renewables and jobs and would cut power prices."
Source: Bloomberg L.P.