Australia's Top States Lag Global Leaders in Clean Power Race
Australia's most populous states, New South Wales and Victoria, trail global leaders in renewable power adoption, hampered by energy policy mis-steps at a federal level, according to a report by independent lobby group the Climate Council.
Wind and solar power account for just 6 percent of total electricity generation in New South Wales and 10.4 percent in Victoria, the report said. That compares with more than 50 percent in world leader Denmark, greater than 20 percent in Germany and over 15 percent in the U.K.
Even so, progress in places such as South Australia and Tasmania shows that the states and territories "continue to lead the way on renewable energy in the ongoing absence of credible national climate policy," the report's authors said.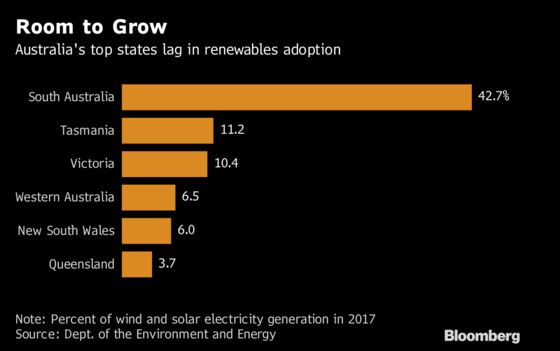 Victoria's renewable generation "likely to rise rapidly in the next few years" thanks to state's ambitious plans to transform the grid
New South Wales "has limited policies to encourage renewable energy, despite having Australia's oldest fleet of coal power stations," report says