China Three Gorges Attempt to Win Control of EDP Slows
China Three Gorges Corp.'s pursuit of utility EDP-Energias de Portugal SA has slowed as the Chinese energy producer grapples with unexpected obstacles to creating a global renewable-energy powerhouse, people with knowledge of the matter said.
A sudden leadership change at state-owned Three Gorges, lingering regulatory and political concerns as well as pressure to raise the 9.1 billion-euro ($10.4 billion) offer have led the Chinese company to reassess the merits and hurdles of the deal, said the people, who asked not to be identified because the deliberations are private.
While Three Gorges is still working on the bid to increase its 23 percent stake in the Portuguese power generator, the timeline to achieve regulatory approval in Europe and the U.S. has slipped to early next year from the end of this year, two of the people said. A final decision on the bid — pursuing, increasing or abandoning the offer — won't be made until there's more clarity on the regulatory demands, the people said.
"China Three Gorges continues to progress with all regulatory filings, continuing to work with a full suite of advisers in discussions with the regulators in different jurisdictions, and in the fulfillment of all the prior conditions for the launching of the voluntary tender offers," the company said in an emailed statement. "The current timings and calendar for such approvals is in line with other comparable transactions of this magnitude and complexity."
The company is trying to execute the deal amid increased political and regulatory scrutiny of proposed Chinese takeovers in Europe and the U.S., as well as a trade war. Heightened concerns about national interests and the security of energy and technology-related assets globally has already slowed or dealt death blows to some proposed Chinese investments, including Germany's decision in August to block such a takeover for the first time.
European officials may also raise concerns about China's growing influence over Portugal's power generator and grids, the people said. State Grid Corp. of China already holds partial ownership of the operator of Portugal's electricity and natural gas grids, REN-Redes Energeticas Nacionais SA.
In addition, the Chinese government suddenly replaced the Three Gorges chairman and another key executive in August with little explanation, the people said. The move temporarily delayed talks with regulators, government officials and EDP as newly appointed Chairman Lei Mingshan and colleagues got up to speed, they said.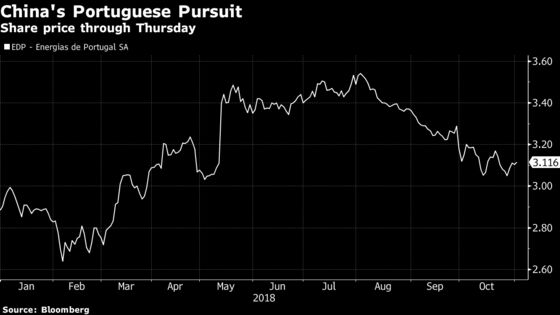 Another stumbling block is EDP's expectation of a bid higher than 3.26 euros a share, which was offered and rejected in May, even as its profit outlook dims and its stock trades below that price, the people said. A representative for the Portuguese company declined to comment.
A 9.1 billion-euro deal for EDP would be this year's biggest Chinese overseas acquisition, data compiled by Bloomberg show. EDP's shares fell 1.6 percent to 3.06 euros at 10:55 a.m. Friday in Lisbon, the worst performing stock in the benchmark PSI 20 Index. The stock had gained 8 percent this year through Thursday.
Three Gorges, formed more than two decades ago to build a hydroelectric dam on the Yangtze River, began acquiring a stake in EDP more than five years ago as part of a Portuguese government bailout.
The prospects for the Portuguese utility have also worsened. At the end of September, the Lisbon-based company cut its profit outlook for this year, citing a government decision alleging that certain power plants were overpaid, and said its operations in Portugal would report a loss for the first time since its initial public offering.
Three Gorges's offer was also linked to a simultaneous bid for a renewable-energy business, EDP Renovaveis SA, which is 83 percent-owned by EDP. Three Gorges, the Portuguese firm's biggest shareholder, is concerned that American regulators could stymie efforts to acquire control of the U.S. portfolio of the renewables business, which is of particular interest as the Chinese group tries to build a global alternative energy powerhouse, the people said.
Three Gorges is discussing various structures and divestments that would facilitate approval from the Committee on Foreign Investment in the U.S., or CFIUS, but allow it to retain large parts of the business, the people said.
For more on the renewables business, click on this link.
Chinese President Xi Jinping is poised to visit Portugal in December, according to local news reports, which may present an opportunity for both parties to get more clarity on both governments' appetite for and stance toward the deal.
To contact Bloomberg News staff for this story: Manuel Baigorri in Hong Kong at mbaigorri@bloomberg.net;Dinesh Nair in London at dnair5@bloomberg.net;Aaron Kirchfeld in London at akirchfeld@bloomberg.net;Steven Yang in Beijing at kyang74@bloomberg.net;Ruth David in London at rdavid9@bloomberg.net