DuPont Photovoltaic Solutions to Highlight Latest Solar PV Innovations at 2018 Renewable Energy India Expo (REI)
DuPont Photovoltaic Solutions to Highlight Latest Solar PV Innovations at 2018 Renewable Energy India Expo (REI)
Renewable Energy India Expo 2018
Dates: September 18 – 20, 2018
Location: India Expo Center, Greater Noida, India
Booth No.: 3.109, Hall 3
At REI Expo 2018, DuPont will be highlighting high efficiency, high reliability material solutions and key collaborations with leading module manufacturers including:
New generation Solamet® Metallization Paste that is designed to enhance most mainstream cell technologies and new Tedlar® backsheet material – an ideal backsheet material for bifacial modules.
DuPont will also exhibit solar panels from its extensive field testing program that demonstrate how materials matter for long-term durability and reliability, as well new sequential testing standards, and results of third party tests on commercial modules by DNV-GL, USA.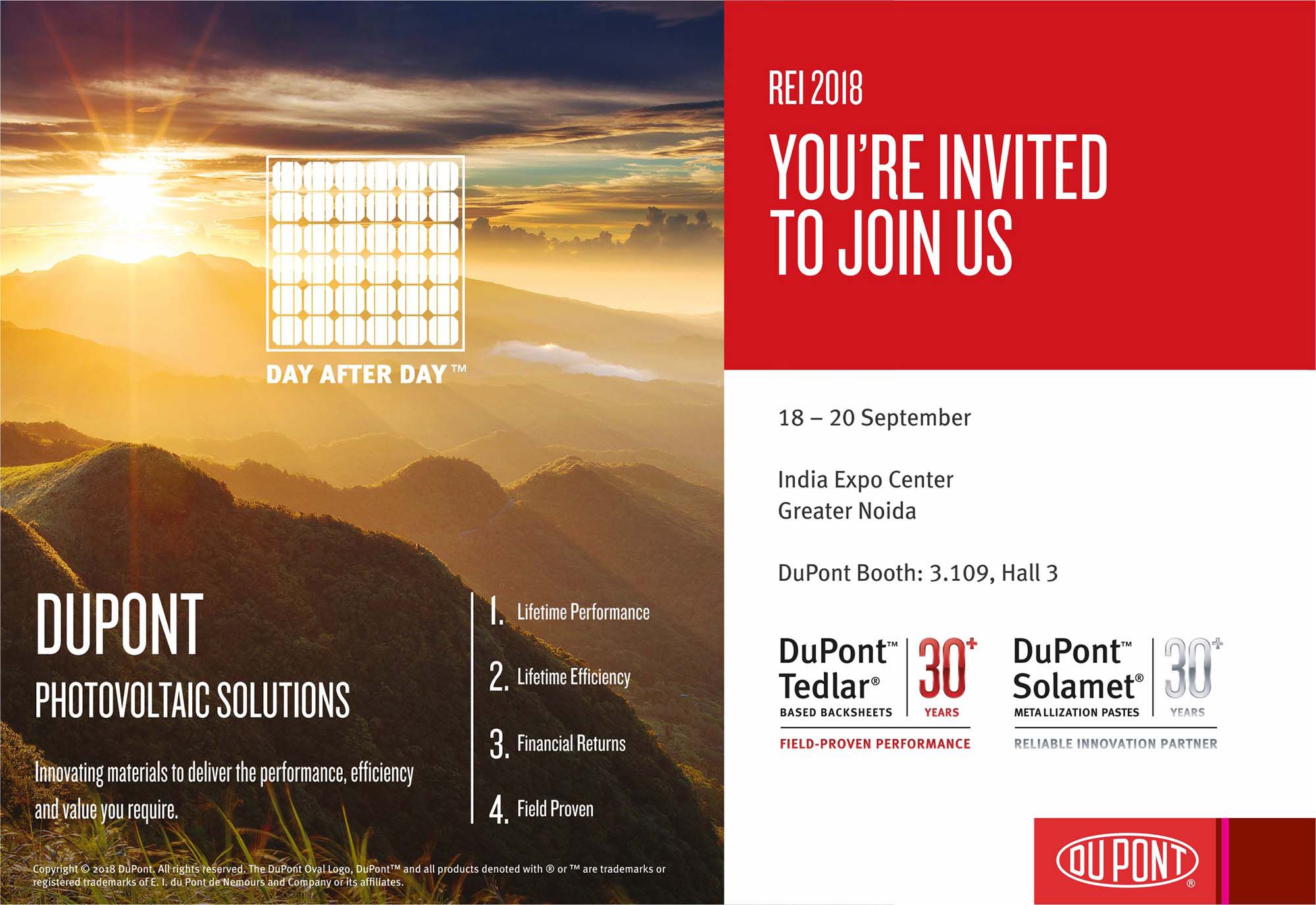 Featured materials include:
DuPont™ Solamet® photovoltaic metallization pastes – DuPont's newest front-side silver paste Solamet® PV21A helps improve efficiency, generate more power output, and increase return on investment.
DuPont™ Tedlar® polyvinyl fluoride (PVF) films – DuPont™ Tedlar® PVF film, the only backsheet material vigorously tested in the field over 30 years to improve lifelong performance and reliability.
DOW CORNING™ brand Silicon-based Photovoltaic Solutions
Please visit DuPont booth at the REI Expo to see how field-proven materials ensure reliable, durable and safe operations for solar PV systems in challenging climatic conditions and help in improving investment returns.
DuPont speaking engagement:
September 18 (Tuesday) Venue: Sage Conference Hall Time: 11 AM – 1 PM
2018 Quality Roundtable India by PV Magazine
Panel Discussion + Case Presentation: Speaker: Rajaram Pai, Marketing Manager – Photovoltaics and Advanced Materials, South Asia & ASEAN, DuPont
Source: dupont.co.in