Dutch Battery Maker to Invest $1.9 Billion in China Cell Factory
Dutch battery maker Lithium Werks BV, founded earlier this year, is investing 1.6 billion euros ($1.85 billion) in a massive lithium-ion cell factory in China as demand for batteries is surging.
The facility will have production capacity of 8 gigawatt-hours per year, or the equivalent capacity of batteries to power 160,000 cars. It will be the company's second Chinese manufacturing site and should start production in early 2021, Chairman Kees Koolen said by phone. The company will provide 20 percent of the cost in equity capital and raise the rest in project finance from a consortium of Chinese banks.
"We're in China again because it moves faster than others, it makes decisions quickly," Koolen said. "We're also in discussions with European governments but they're just doing a lot of talking."
Batteries will play a key role in both the energy industry to complement the increasing share of intermittent renewable power, as well as a cleaner alternative to petrol and diesel engines prevalent in cars, buses and trucks across the world.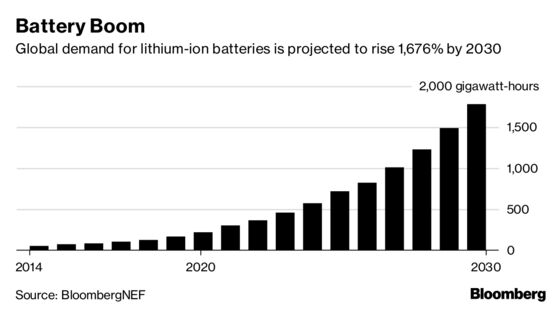 The deal is part of a broader partnership signed Tuesday between the Netherlands and China. Chinese premier Li Keqiang and Dutch prime minister Mark Rutte are announcing other large-scale deals at an event in The Hague.
Lithium Werks is focusing on making batteries for uses beyond electric cars, betting that everything from forklifts to boats and mining equipment will soon run on electricity too. Koolen expects revenue will reach $1 billion by 2020 and he plans to have 10 battery factories in operation by 2025.
Move Over, Tesla. This Little Dutch Company Makes Big Batteries
The company was founded at the start of the year by combining startups with different competences along the battery manufacturing value chain. Deals include a division of cell maker A123 Systems LLC, as well as Valence Technology Inc. and Super B, which both bundle cells into battery packs. Koolen expects to close two more deals before the end of the year and several more in 2019.
Source: Bloomberg