Three agents held for role in Rs 900 crore cheating case; properties worth Rs 300 crore attached in Maharashtra
MUMBAI: Police recently arrested three agents for involvement in a case of cheating three lakh people by Atharva 4U Infra & Agro Pvt Ltd and its directors. The firm had promised to reinvest depositors' money in their business and give them high profits. Investigations began with an amount of Rs36,000, which later reached Rs 900 crore, as police got records of more investors.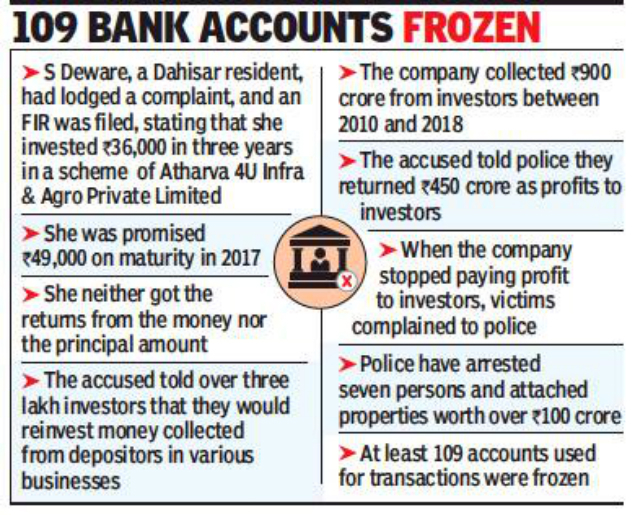 Economic offences wing (EOW) on October 22 arrested Surdas Patil (48), Sukhdev Mhatre (41) and Subhash Naik (40) and a court remanded them to police custody till October 31.
Those initially named in the FIR included directors Shivaji Niphade, Ganesh Hajare, Sachin Gosavi and Mukesh Sudesh, who are in jail. S Deware, a homemaker, first complained that she opted for a scheme and deposited Rs 1,000 thrice for three years. She was promised Rs49,000 after maturity but did not het her profit or principal amount.
A team led by inspectors Rajendra Sangle and Baliram Dhas is probing the case.
The company, with its main office at Dahisar, had come up with several schemes. A depositor would get 1.5 times profit if one invested for three years in the firm's businesses, double for five years, for seven years triple, and for 10 years four times' profit. The firm attracted lakhs of investors and had 40 offices in Maharashtra, including Mumbai, Thane, Panvel, Ratnagiri and Sangli, and in Goa, Gujarat, Karnataka and Rajasthan.
The directors and agents promised to invest the money in education, health, beauty, goat farming, ayurveda and solar projects.
"The accused admitted they paid Rs 7 crore to a person to start a solar project in rural Maharashtra, but it did not start. None of the businesses started," said an officer. The accused told police they returned Rs 450 crore to investors as profit. After stopping payments they shut down their office in Dahisar and disappeared, police said.
Investigators have attached the firm's and directors' 107 properties worth around Rs 300 crore, including flats, shops, offices and plots in Mumbai, Thane, Panvel, Sangli, Ratnagiri, Goa, Rajasthan, Dadra and Nagar Haveli.
Source: timesofindia.indiatimes