Hedge fund billionaire Tom Steyer is spending millions of dollars to turn politically-red Arizona green in a battle that's growing increasingly nasty.
Steyer, best known for his TV pitch to impeach President Donald Trump, is facing fierce resistance from Arizona's biggest utility and a top state Republican to his push for a November ballot initiative requiring the state to get half of its electricity from renewable energy by 2030.
Parties have accused each other of lying. The attorney general, Republican Mark Brnovich, labels Steyer "a radical, leftist California billionaire who is proud to be part of the resistance." A Steyer-backed group says Brnovich changed the wording on the initiative at the last minute to undercut it. Meanwhile, $40 million has been committed to the battle.
"This is a fight between two irreconcilable forces," said Stephen Munro, a Washington-based analyst at Bloomberg NEF. "The utilities and Steyer are very unlikely to huddle in a room and come out with a compromise."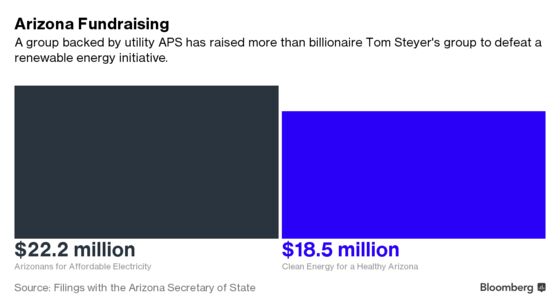 In some ways, it's also the latest culture clash between sunny Arizona and its more liberal neighbor to the west. California has voted for a Democrat in each of the last five presidential elections; Arizona voted Republican each time, giving Trump its 11 electoral votes with a 3.6 percentage point edge in 2016.
California has been a thorn in Trump's side as his administration moves to trim environmental regulation and boost production of carbon-based energy. While California recently required that all of its power come from carbon-free sources by 2045, Arizona hasn't budged since 2006 on a 15 percent renewables requirement by 2025.
Arizona is the No. 3 solar state with more than 3,600 megawatts installed at the end of the second quarter, according to the Solar Energy Industries Association. California is easily the biggest, with almost 22,800 megawatts.
The California factor is something that opponents have focused on in media attacks. "Don't make California's mistake," says one posting. "Arizona's not for sale." The posting is by Arizonans for Affordable Electricity, which has raised $22.2 million from Pinnacle West Capital Corp., the parent company for the state's largest utility, Arizona Public Service, or APS.
APS contends that the measure will increase costs by forcing it to use a lot more renewable energy at times when it may not be needed, such as the milder winter months. The utility would have to add new resources including expensive battery storage and natural gas plants to integrate the additional solar power, said Jeff Burke, the company's director of resource planning.
Additionally, Burke said, the flood of renewable power would likely force the early retirement of the utility's Palo Verde nuclear power plant, which provides round-the-clock carbon-free power.
"It's expensive," he said. "It has the potential to raise emissions in the state and it's bad policy."
Steyer, meanwhile, isn't shy in his response. He says there is more urgency than ever to boost clean-energy requirements given the dire warnings of a recent United Nations Intergovernmental Panel on Climate Change report that warns that "unprecedented" action must be taken over the next 12 years to keep globing warming in check.
What the utility is saying "is not true," Steyer said in a telephone interview. The cost of solar and wind are increasingly competitive with fossil fuels, and they'll continue to drop, he said.
Supporters look at the initiative "and say lower costs, cleaner air, more employment, save the planet," he added. Meanwhile, on the other side is "a very concentrated corporate effort to lie about science and promote their bottom line," Steyer said.
The battle has become particularly noxious between Steyer and Brnovich, the attorney general.
Steyer's group decried the move by Brnovich to add language to the initiative that says the mandate, if approved, would apply "irrespective of costs to consumers." They note that the added clause is being highlighted in media ads opposing the measure from the group backed by Pinnacle West.
Proponents of the clean-energy measure also say the attorney general received $425,000 in APS contributions for his 2014 campaign. Brnovich, meanwhile, said he received no money from the utility, that contributions went to the Republican Attorneys General Association. That group supported Brnovich's election.
Now, the group backed by Steyer called Clean Energy for a Healthy Arizona is spending more than $3 million on television ads that call Brnovich "corrupt" in an effort to both support Proposition 127, the green-energy mandate, and reject the attorney general's re-election bid.
"Tom Steyer is a liar and he's got his facts wrong," Brnovich said in a telephone interview.
The attorney general's office is required to review and approve all ballot language descriptions, Brnovich said, noting his office changed language on several ballot initiatives this year. He said he hadn't discussed the initiative with the utility and told Steyer's group about their proposed changes to give them an opportunity to respond.
"He's got a ballot proposition that apparently is going down in flames," Brnovich said. "So he is looking for someone to blame."
There have been signs the political terrain in Arizona may be shifting. The state's population has been growing as a result of migration from other states and other countries. The state shares a southern border with Mexico that runs more than 350 miles long (563 kilometers).
And the use of solar power has been growing in Arizona, to 6.4 percent of the state's generation last year from just 1.2 percent in 2012, according to Bloomberg NEF. Meanwhile, Steyer and other renewables advocates are trying to extend "the battlefield beyond legislative and regulatory proceedings and into the court of public opinion," said Timothy Fox, a vice president at researcher ClearView Energy Partners LLC.
Still, early polling suggests the proposition's backers face an uphill battle. In Early October, the Arizona Republic newspaper published a poll it did with Suffolk University showing the initiative behind by about 13 percentage points, with almost one-fifth of voters undecided.