CHANDIGARH: In what can be seen as the first of its kind, a solar power plant will be installed on a seasonal rivulet in the city. Chandigarh Renewal Energy, Science and Technology Promotion Society (CREST) is planning to install a 3 MW solar power plant on Nchoe, which passes through Garden of Springs, Sector 53, at the southern end of Chandigarh.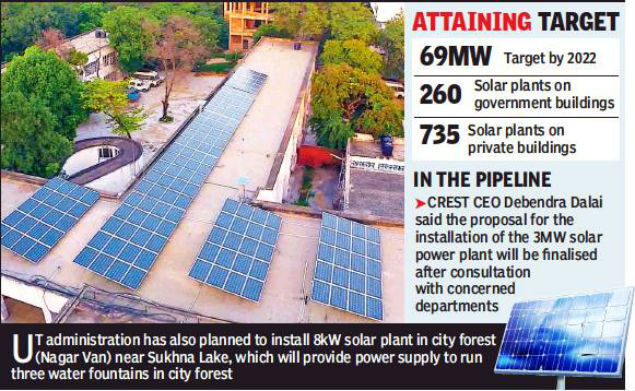 Apart from this, CREST also wrote a letter to different department heads in the UT to provide details of space available in the areas falling under their ambit across the city for installation of solar power plants to meet solar energy target set by the Union government. It has identified some other places for installation of solar power plants across the city too.
The ministry of new and renewable energy has enhanced the city's solar power generation target from 50MW to 69MW, to be achieved by 2022. Local authorities are struggling to meet the target due to shortage of space in the city, which is spread in an area of just 114 sq km.
UT environment department director and CREST CEO Debendra Dalai said the proposal for the installation of the 3MW solar power plant will be finalised after consultation with concerned departments. Under its model solar city project, the UT administration has also planned to install 8kW solar plant in city forest (Nagar Van) near Sukhna Lake, which will provide power supply to run three water fountains in city forest. These three fountains will be installed in water bodies inside city forest.
Source: timesofindia.indiatimes