PATIALA: The Punjab State Electricity Regulatory Commission (PSERC) has decided to revise the renewable purchase obligations for Punjab State Power Corporation Limited (PSPCL) till 2022 by inviting suggestions from stakeholders while formulating the new norms.
As per Section 86(1) (e) of the Electricity Act, 2003, the PSERC is to promote co-generation and generation of electricity from renewable sources of energy by providing suitable measures for connectivity with the grid and sale of power to any person. As per the proposal, Punjab is likely to seek 21% of its total power consumption from renewable sources by 2022. This would include 10.5% from non-solar renewable sources, including wind, biogas, small hydropower stations and 10.5% from solar generation. Till last year, the state was sourcing only 4.9% of renewable energy to meet the total power demand.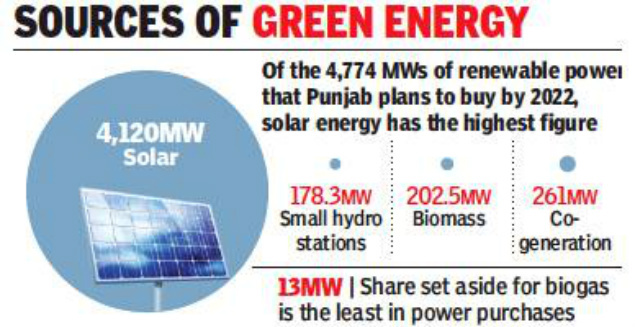 As per the projections given by Punjab Energy Development Authority (PEDA) for capacity addition of renewable energy, the state is to add 4,774.8MW through renewable sources till 2022, which includes 4,120MW from solar, 178.3MW from small hydropower stations, 202.5MW from biomass, 261MW from co-generation and 13MW from biogas by 2020. The PSPCL has projected a capacity of 3,041MW by 2020, which includes 1,763MW from solar, 751MW from biomass, 903MW from non-fossil fuels, 456MW from small hydropower plants, 10MW from biogas and 919.8MW from wind energy.
As per the data submitted by the PSPCL, it has signed two purchase agreements for the procurement of wind power with the Solar Energy Corporation of India (SECI) for 150MW at a rate of Rs 2.72 a unit and 200MW at a rate of Rs 2.52 a unit. As per these agreements, the said power is expected to be available in May 2019 and December 2019, respectively. The recent rates of wind power stood at Rs 2.51 per unit in the auction and that of solar power is between Rs 3.48 to Rs 3.55 per unit. The average variable charges of power bought from the independent power producers in the state for 2018-19 has been worked out to be Rs 2.45 a unit.
Chairman-cum-managing director (CMD) of the PSPCL Baldev Singh Sran said the corporation stood to strengthen its financial position with the increase in the renewable sources of energy. He said the move would also have a positive impact on the carbon footprint in the state.
Source: timesofindia.indiatimes