China's Solar Power Growth to Soar in 2022 on Project Pipeline – EQ Mag Pro

China is forecast to add record solar power in 2022 despite continued high material costs as the country pushes forward with a massive renewable build-out to reach its ambitious climate targets.
About 75 to 90 gigawatts of solar power capacity will be installed this year, Wang Bohua, chairman of China Photovoltaic Industry Association, said Wednesday. Even the low case would be a massive increase over last year's record haul of 54.93 gigawatts.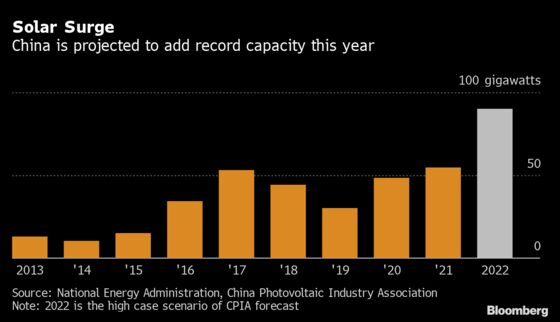 China has a strong pipeline of solar projects as state-owned power firms have been capitalizing on Xi Jinping's plans for massive installations in the country's deserts. There's also strong growth in the rooftop market as factories look to replace some of their grid consumption with self-generated clean energy.
Through 2025, the country will average between 83 to 99 gigawatts of new solar capacity every year, Wang said. Global installations will rise to 232 to 286 gigawatts a year during the period, he said.
While that represents record additions, it's well short of the 455 gigawatts a year that BloombergNEF estimates needs to be added annually through 2030 to keep the world on pace to avoid the worst impacts of climate change.
Wang also warned that Chinese companies have to defend their dominant place in the global solar market amid increasing competition from panel-makers in the U.S., European Union, and India.
"We should accelerate innovation,"he said. "So that our Chinese solar industry could stand unbeatable."
Chinese companies will likely boost polysilicon output to more than 700,000 tons this year, according to the CPIA. That would be up from 505,000 last year, when a shortage of the material caused price spikes throughout the solar supply chain.
Polysilicon prices have been rising again after easing toward the end of last year, leading to more expensive solar modules. Prices will likely stay high in the short term amid strong demand, according to a note by the Silicon Industry of China Nonferrous Metals Industry Association.
Source : bloombergquint