Corporate Giants Are Buying so Much Clean Power This Year They Already Broke 2017's Record
Businesses and public agencies are buying more clean energy than ever before.
Companies and agencies, excluding utilities, agreed to buy 7.2 gigawatts of clean energy worldwide so far this year, already shattering the record of 5.4 gigawatts for all of 2017, according to a report Friday from Bloomberg NEF.
The surge comes as communities, nations and companies set clean-power targets, part of a growing global effort to curb climate change. The growth shows that the renewables boom has plenty of room to grow. In some markets, renewable energy is the cheapest source of electricity.
"It's definitely not a one-year blip," Kyle Harrison, a New York-based analyst at Bloomberg NEF, said in an interview.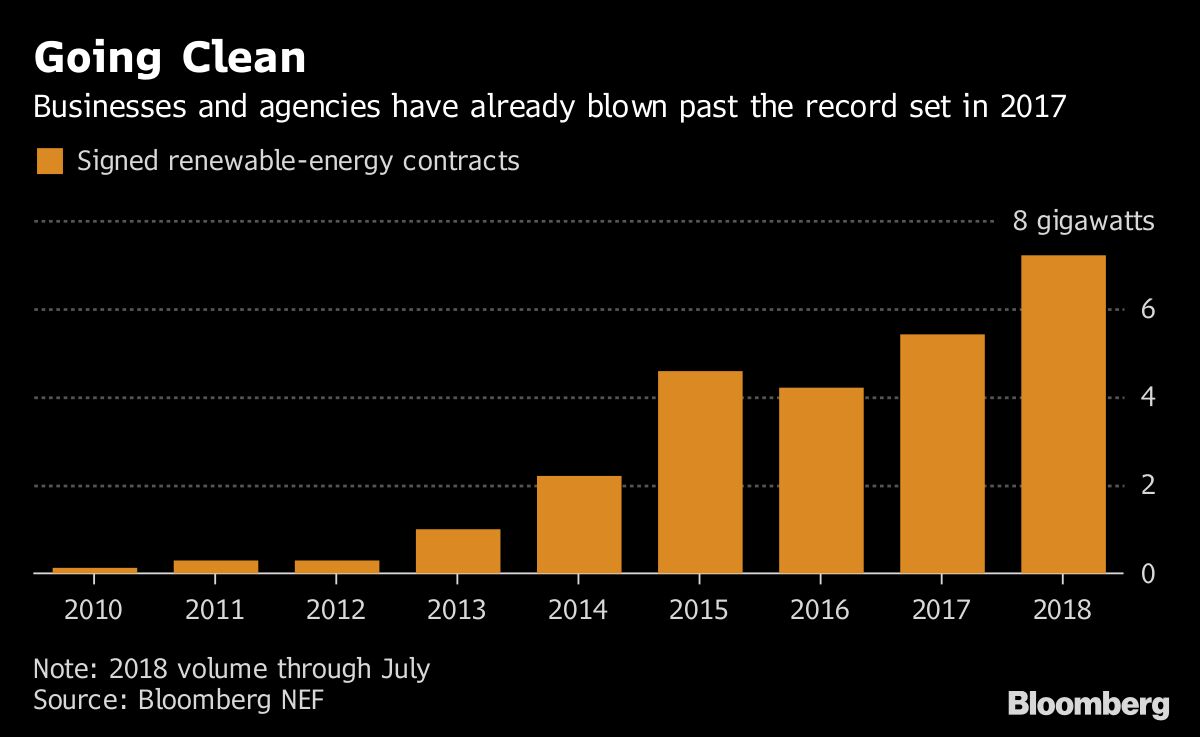 There are other factors driving the surge. More countries are introducing renewables programs that encourage such deals. And for companies, long-term contracts to buy clean power from wind and solar farms can also act as hedges against uncertain wholesale prices.
That's helping to deepen the pool of buyers beyond tech firms. Manufacturing and communications companies have emerged as prime buyers. Facebook Inc. was the biggest buyer in the first seven months of this year, followed by AT&T Inc., Norsk Hydro ASA, Alcoa Corp., Microsoft Corp. and Walmart Inc., according to the report.
In the U.S., corporations signed a record 4.2 gigawatts of contracts this year, about 58 percent of the global total. They did so despite a wave of federal policies that have the potential to crimp demand for clean power, including tariffs on solar panels, steel and aluminum, and a sweeping overhaul of the federal tax policy.
"Corporate demand has proven resilient to any impacts by the Trump Administration," Harrison said.