Global renewable energy capacity grew 7.4 per cent in 2019, solar takes biggest share
Solar energy continued to lead capacity expansion, with an increase of 98 GW or an increase by 20 per cent, followed by wind energy with 59 GW. Hydropower capacity increased by 12 GW, and bioenergy by 6 GW
New Delhi: The renewable generation capacity across the world increased by 176 gigawatt (GW) in 2019, up by 7.4 per cent, while solar energy took the largest share with an increase of 98 GW, according to the International Renewable Energy Agency (IRENA).
a
"Solar energy continued to lead capacity expansion, with an increase of 98 GW or an increase by 20 per cent, followed by wind energy with 59 GW. Hydropower capacity increased by 12 GW, and bioenergy by 6 GW. Geothermal energy increased by just under 700 MW," IRENA said in its renewable capacity highlights released recently.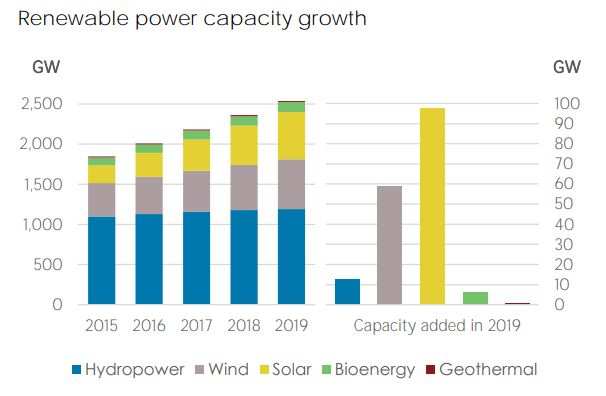 Solar and wind energy continued to dominate renewable capacity expansion, jointly accounting for 90 per cent of all net renewable additions in 2019.
It added that in 2019 the global renewable generation capacity amounted to 2,537 GW where hydropower accounted for the largest share of the global total, with a capacity of 1,190 GW.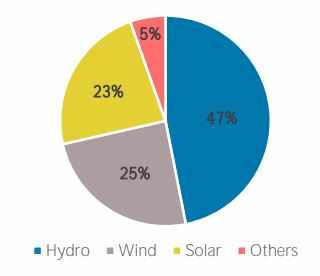 "Wind and solar energy capacities were at 623 GW and 586 GW, respectively. Whereas, other renewables included 124 GW of bioenergy, 14 GW of geothermal plus, and 500 MW of marine energy," the report added.
Asia accounted for 54 per cent of new capacity in 2019, increasing its renewable capacity by 95.5 GW to reach 1.12 TW — 44 per cent of the global total.
"Asia continued to dominate global solar capacity expansion with a 56 GW increase, about 60 per cent of the total in 2019, but this was lower than in 2018. China, India, Japan, Republic of Korea and Vietnam added most new capacity in 2019," IRENA said.
It said that wind performed well in 2019, expanding by nearly 60 GW. China and the United States continued to dominate, with increases of 26 GW and 9 GW, respectively, higher than the year before. Another eight countries expanded their wind capacity by more than 1 GW each, the report added.
Source: energy.economictimes.indiatimes