Photovoltaic firms make rapid strides in component exports as demand rises
China saw its photovoltaic product exports reach a five-year high last year, thanks to rising demand of production capacity abroad and the end of the European Commission's anti-dumping measures.
The total export of photovoltaic products reached $16.11 billion in 2018, the highest since the EU's decision to scrap minimum import price restrictions on Chinese products. Total capacity of all the exported components hit 41 gigawatts, a year-on-year increase of 30 percent, according to the China Photovoltaic Industry Association.
Currently, more than 20 Chinese photovoltaic companies have production interests overseas, through joint ventures, mergers and acquisitions, mostly in Vietnam, Thailand and Malaysia, it said.
The upsurge of photovoltaic product export volumes is in accordance with the country's growing installed capacity for renewable energy, which reached 728 GW, up 12 percent year-on-year by the end of 2018.
The installed capacity of photovoltaic power stations in 2018 reached 174 GW, growing 34 percent year-on-year, while power generated by photovoltaic cells reached 177.5 billion kilowatthours, growing 50 percent over 2017, according to the National Energy Administration.
Solar power wasted in 2018 reached 5.49 billion kWh, and the curtailment rate was 3 percent, down by 2.8 percentage points, it said.
According to Li Chuangjun, deputy director of the new energy department of the NEA, China will continuously push forward the high-quality development of the photovoltaic sector at a reasonable scale and pace, while further improving photovoltaic generation management.
The European Commission's antidumping and anti-subsidy measures on solar panels from China have been in place for five years since 2013. Chinese manufacturers were allowed to sell solar products in Europe free of duties only if they did so at or above a progressively declining minimum price, or else they were subjected to duties of up to 64.9 percent. The expiration, which started on Sep 3 last year, was in the best interests of the EU as a whole, considering the bloc's aim of increasing its supply of renewable energy.
In addition to the end of the EU restrictions, China's new rules to reduce government feed-in tariffs for the photovoltaic industry have also encouraged upstream firms to seek more overseas opportunities, while stabilizing the rapidly growing and overheated sector.
The government announced a cut in the national feed-in tariff by 0.05 yuan (0.7 US cents) per kWh on June 1, considering the subsidy gap of 45.5 billion yuan for the photovoltaic sector by the end of 2017.
Qian Jing, vice-president of JinkoSolar Holding Co Ltd, the world's biggest solar panel producer by shipments, said the feed-in tariff is not sustainable in the long term, and the reduction will encourage China's solar power toward grid parity.
The company signed a three-year agreement to supply 1.43 GW of high efficiency modules to sPower, a United States-based renewable energy independent power producer, on Tuesday. It has also been actively advancing its global layout in recent years while heavily investing in advanced solar technologies.
Global component shipments for JinkoSolar in 2018 exceeded 11 GW, the highest worldwide, according to PVInfolink, a company that provides global photovoltaic market research.
According to Risen Energy Co Ltd, another leading photovoltaic company in China, the company has been actively laying out strategic business plans in markets where the company is already seeing stable business, including Europe, the United States and Australia, as well as strategic business plans in Indonesia, India, Nepal, Ukraine, the Czech Republic, Romania, Bulgaria and Cambodia.
Jinneng Clean Energy Technology Ltd, or Jinergy, also reported sales increases in overseas markets with components exports to South Asia, Mexico, Argentina, Australia and Japan.
Lin Boqiang, director of the China Center for Energy Economics Research at Xiamen University, said Chinese photovoltaic companies have been motivated to seek more overseas opportunities in recent years, especially in Africa, and now in countries and regions participating in the Belt and Road Initiative.
China has been taking bold steps to develop the photovoltaic industry and has been taking the lead in photovoltaic development globally, with an internationally competitive and complete value chain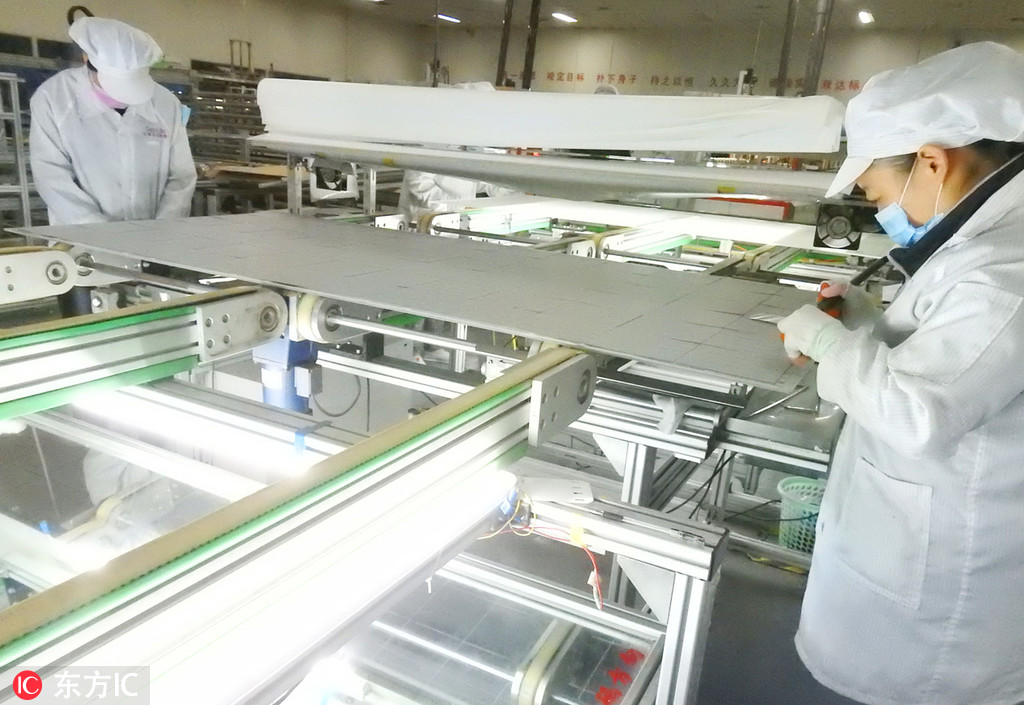 Workers at a silicon production base in Lianyungang, Jiangsu province, install photovoltaic modules. [Photo by Geng Yuhe/For China Daily]
According to the International Energy Agency, China has one-fourth of the world's solar capacity and six of the top 10 global solar-panel manufacturers.
Many domestic energy behemoths have also been expanding their solar power business. CGN New Energy, a subsidiary of China General Nuclear Power Corp, saw its Delingha 50 MW thermal power plant enter operation in October, the country's first large commercial parabolic-trough concentrated solar power plant.
China Three Gorges Corp, the world's biggest hydropower builder, has also been diversifying its business into solar and other forms of new energy beyond its core business, investing some 1 billion yuan to build the world's biggest floating solar power plant in China's eastern province of Anhui.
China Renewable Energy Engineering Institute, a think tank linked to China's National Energy Administration, forecast that the domestic wind and solar sector will experience strong growth in the period between 2020 and 2030 due to declining costs.
There will be a strong solar power boost in China between 2020 and 2030 due to declining costs, with new solar photovoltaic installed capacity to reach 80-160 GW annually, the institute said in its recently released China Renewable Energy Outlook 2018.
According to China Photovoltaic Industry Association, China's capacity for photovoltaic energy grew by 34 percent year-on-year in 2018. Total installed photovoltaic capacity surpassed 170 GW at the end of 2018, thanks to 43 GW of capacity added over the year.
The capacity amounted to over 9 percent of the country's power generation capacity in 2018, and curtailment of photovoltaic power generation declined to 5 percent from over 10 percent in 2015, it said.
According to Wang Bohua, secretary-general of the China Photovoltaic Industry Association, demand from the markets in the US, India and Japan has been stable, and demand in emerging markets has been accelerating.
Expected new installed capacity for 2019 is around 35 to 49.4 GW, he said.
Source: english.eastday