Jaipur ranks third in world's top 10 smart renewable cities list, Bengaluru comes sixth
Smart renewable cities are defined as cities with solar or wind power and a smart city plan that includes a renewable energy component
New Delhi: Jaipur has bagged the third rank in the list of world's top 10 smart renewable cities (SRCs), with the silicon valley of India, Bengaluru, coming at the sixth spot. United States' city of San Diego topped the list, while Paris was ranked at the bottom.
The list was part of a latest study conducted by accounting and consultancy firm Deloitte's report titled "Global Renewable Energy Trends".
The report said: "Jaipur is a nationally-driven SRC. India's national government created a 100 Smart Cities Mission that included a solar energy requirement. Jaipur does not have a renewable target, but will benefit from ambitious state and national targets set this year."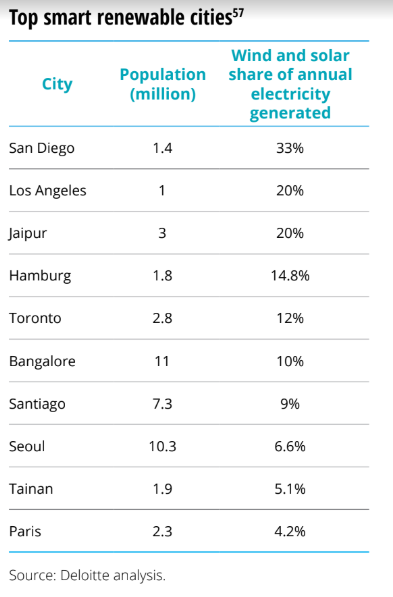 It added that Jaipur's key SRC initiative was rooftop solar powering of infrastructure, beginning with eight metro stations that would be entirely solar-powered during the day.
Smart renewable cities are defined as cities with solar or wind power and a smart city plan that includes a renewable energy component.
With a population of three million, Jaipur has a 30 per cent wind and solar share of the annual electricity generated. Bengaluru has 10 per cent share and a 11 million population.
San Diego was the global leader, with over a million people by their share of power generation from wind and solar. The report said, "Solar and wind already account for over a third of its electricity mix, and the city has a 100 per cent renewables target by 2035. San Diego is also a locally-driven SRC — while the US government is stepping back from climate commitments, San Diego has vowed to continue its deployment of renewables."
SRCs recognise that solar and wind can power their smart city goals. Solar and wind are at the intersection of these goals because they contribute to depollution, decarbonisation, and resilience while enabling clean electric mobility, economic empowerment, and business growth, the report stated.
The Deloitte study also added that SRCs capitalise on this confluence of factors. The biggest SRCs were doing this by transforming their existing infrastructure, while the newest ones were building it from scratch.
Source: energy.economictimes.indiatimes