Renewable energy had a tough election night, losing two of three U.S. state ballot measures that would have encouraged cleaner power supplies.
Voters in Washington State defeated a carbon-fee initiative, and Arizona rejected a push to make electric companies use more wind and solar. The measure that passed was in Nevada and, if enacted, will require utilities to get half their power from renewables by 2030.
The three initiatives were part of a broader push by states to fight global warming as the Trump administration promotes fossil fuels. Microsoft Corp. co-founder Bill Gates backed the carbon fee, and billionaire Tom Steyer supported the clean energy measures. But voters in Arizona and Washington decisively voted no after critics warned they would drive up costs for families and businesses.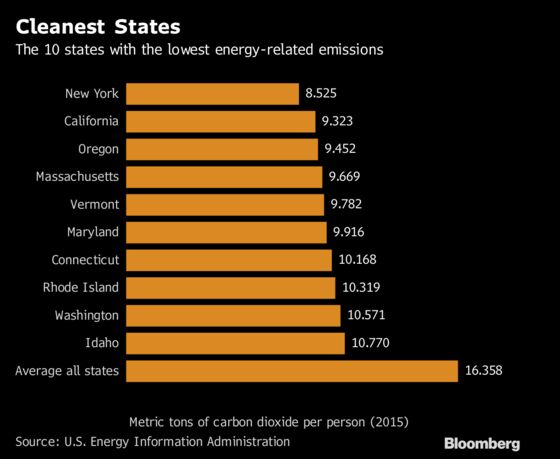 Pinnacle West Capital Corp., which owns Arizona's biggest utility, opposed the measure that would have required utilities to get half their power from renewables by 2030. The company's shares rose less than 1 percent Wednesday after the initiative failed by a margin of 70 percent to 30 percent.
Solar energy companies that could benefit from the measure in Nevada gained. Sunrun Inc., the largest U.S. residential-solar company, rose as much as 2.8 percent. SunPower Corp. gained 5.9 percent. And First Solar Inc. rose 3.8 percent. The initiative, which passed 59 percent to 41 percent, will need to be approved by a second ballot initiative to become law.
The carbon fee measure in Washington State fell 56 percent to 44 percent. It was the second time the state unsuccessfully tried to put a cost on greenhouse emissions blamed for global warming.
The proposal, backed by Gates and Democratic Governor Jay Inslee, would have raised $2.3 billionfor clean-energy investment by 2025 by adding fees on polluters, according to state estimates. It would have been the first effort of its kind enacted by referendum anywhere in the world. The measure was opposed by business groups including the Western States Petroleum Association.
Ted Halstead, chief executive of the Climate Leadership Council, said the initiative's defeat highlights the need for the federal government to enact a carbon-pricing program. The most promising approach, he said, is the carbon tax-and-dividend plan backed by former Secretary of State James Baker and prominent Republicans.
"To make it politically-viable, we need a plan that Republicans and Democrats, industry and environmentalists can all get behind," Halstead said in a statement.
The clean energy measures in Arizona and Nevada were backed by Steyer, best known for his push to impeach President Donald Trump. Pinnacle West Capital's Arizona Public Service said the initiative would drive up customer bills by forcing it to unnecessarily use more renewable energy. The utility also said it would force its Palo Verde nuclear power plant to retire early.
Steyer said the measure would deliver low-cost energy, cleaner air and more jobs while showing that corporations can't dictate what type of energy consumers get.