BHOPAL: Within two days of the sweeping bypoll victory, chief minister Shivraj Singh Chouhan unveiled the blueprint for Atmanirbhar Madhya Pradesh by 2023 in Bhopal on Thursday.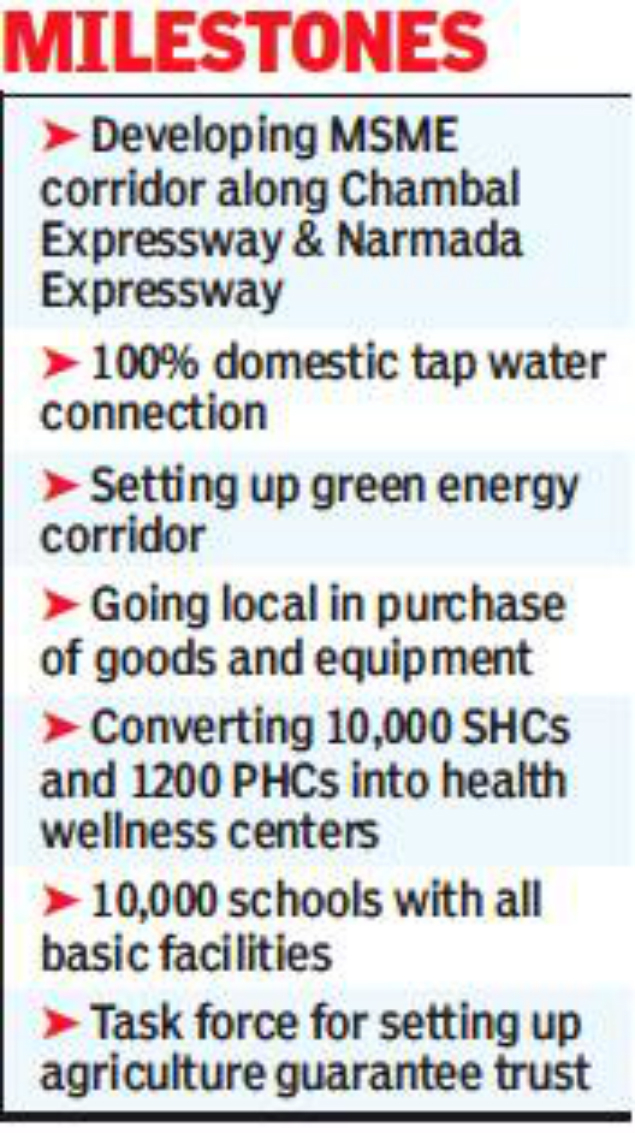 MP is the first state to release a roadmap for self-reliance on the strategy of Prime Minister Narendra Modi's Atmanirbhar Bharat, the CM said at an event attended by NITI Aayog CEO Amitabh Kant. The focus is on transparent governance, farm welfare, job creation and booster shots for industry and healthcare.
"Only Madhya Pradesh took this important initiative by organizing webinars with experts during the Corona pandemic. MP will be identified as the leading state for implementation of Atmanirbhar roadmap," Kant said from New Delhi, adding: "When all the states were battling the pandemic, MP accomplished the important task of preparing this roadmap for economic development while making good arrangements to protect people from Coronavirus." Chouhan said that a new structure will be created for public participation in the development and monitoring system by setting up Deendayal committees at village, janpad and district levels. Transparency in development works will be increased through technology. Farming will be made a profitable business by increasing production and productivity in a modern way, and Rs 10,000 will be given to farmers every year in the form of PM Samman Nidhi and Mukhya Mantri Samman Nidhi. The road map lays out clear milestones for development of infrastructure, health and education, economy and employment and good governance. This blueprint will guide ministers in preparing and implementing schemes of their departments, the CM said, adding that responsibility will be fixed at every level.
Shivraj: Making local vocal, women empowerment is aim

Prime Minister Modi is our inspiration. He had appealed to all states to support the Atmanirbhar Bharat mission, and urged to turn the Corona challenge into an opportunity. Atmanirbhar MP is essential for building Atmanirbhar Bharat," Chouhan said.
Recalling the challenge to help people overcome the Covid-induced economic crisis,
the CM said: "We delivered funds to various sections of society through video conferences. Presenting the roadmap for MP under such circumstances was a special task, which we have fulfilled. Now, relentless efforts will be made to implement it. Private sector participation will be ensured," he added.
Economic activities will be promoted so that MP becomes the best state in the country, Chouhan asserted.
"Making local vocal is the aim," the CM said, adding that local products will be given emphasis, which will lead to women's empowerment. "The business of women in rural areas will be made profitable by enhancing their skills. Efforts will be made to increase employment through cultural activities. Small traders should not face any difficulty, and if big traders are dishonest, they will not be spared," the CM said.
The focus will be on making agriculture a profitable business by building roads and infrastructure and ensure "utilization of every drop of water", Chouhan said. The area under irrigation will be nearly doubled to 60 lakh hectares through a network of small water structures.
"Farmers Producer Organizations (FPO) will be expanded in the form of a movement," Chouhan said. The thrust will be on use of solar power. Solar panels will be laid in Omkareshwar reservoir. Taking inspiration from Swami Vivekananda, Chouhan said: "Today, it is necessary that all arise, awake and work till the goal is achieved. Because those who try never lose." Chouhan handed over a copy of the roadmap to chief secretary Iqbal Singh Bains for its implementation. BJP state chief V D Sharma and several ministers, MLAs and MPs were present on the occasion.
"NITI Aayog has helped in building the roadmap for the state. The department of public service management will coordinate in the implementation of the roadmap. All other departments will actively participate. Coordination will also be established through Deendayal Committees," Chouhan said.
Chouhan cautioned people that Coronavirus is still around and they should take precautions. "The mask itself is a vaccine," he said.
Source: timesofindia.indiatimes