The ambitious target of setting up 40 gw of rooftop solar power in the country by 2022 seems impossible with the government taking its 'eye' off this ambitious programme.
"Rooftop solar has taken a back seat… The government has taken its eyes off rooftop solar," SunSource CEO, Adarsh Das told DNA Money.
SunSource, the Rs 400 crore start-up company, is in the business of erection of commercial and residential solar rooftops, besides building large solar power plants across the country and some overseas nations, including the Philippines.
So far, India has 3 gw of commercial and residential solar rooftops and adding 37 gw in the next 3-4 years is virtually impossible, that too at a time when there is a general slowdown in the solar industry.
Frequent changes in solar power policies, regulatory issues, safeguard duties, lack of clarity in manufacturing policies are coming in the way of rapid solar growth. The ambitious 100 gw of solar power generation including 40 gw of solar power by 2022 looks elusive, analysts said.
"There is a slowdown in solar. It is slowing down because of safeguard duties on the import of solar panels. There is also GST issues, which are still unresolved. GST refunds are not coming. There is a lack of clarity on government policies. The government has imposed 25% safeguard duty on solar panel imports, leaving tremendous uncertainty about future," Das said.
But the saving grace is rooftop solar, which had huge potential in India, is still growing on its own, though not rapidly.
Some of the state electricity boards have surplus thermal power production. Also, most of the state electricity boards' finances are in bad shape. As a result, they want to discourage rooftop solar power in particular so that there is no loss of revenue on this count particularly from large commercial consumers. Under the net metering system, rooftop power generated will be set off against the power consumed from the grid. Rooftop solar is, however, good for grid stability.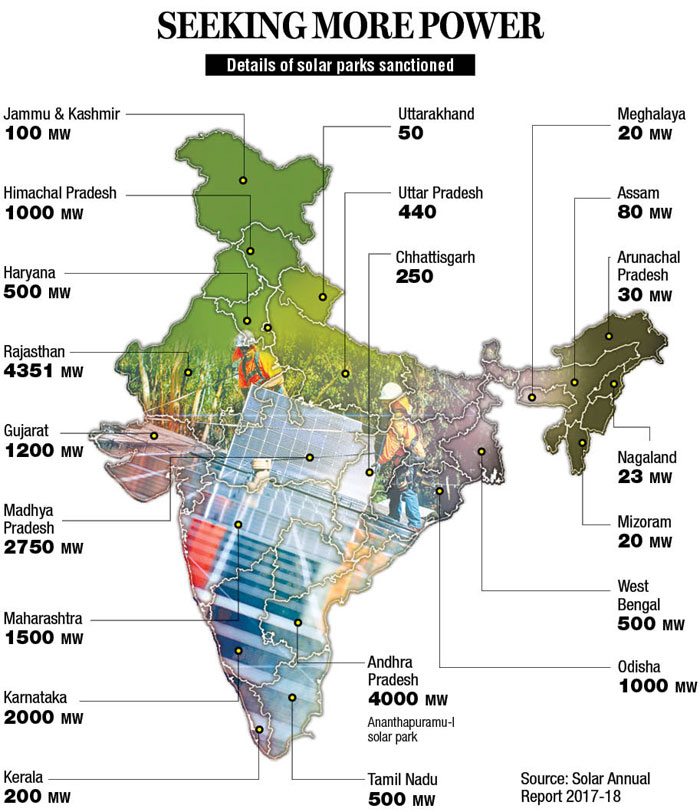 World's largest solar panel manufacturer, Trina Solar of China, is bullish about India's solar programme though it saw some slowdown. Trina Solar has a solar panel manufacturing capacity of 8 gw annually,
The Chinese firm's senior sales director Junheong Ku and president of Asia Pacific, Middle East and Australia region, Helena Li, however, saw a good opportunity for promoting rooftop solar in India.
Recently, the company launched in India Trina Home Solar kit, which provides a complete solution for the erection of a rooftop solar.
Helena Li told DNA Money that Trina Solar has already installed 3.5 gw of solar power in India and expects to grow at a faster rate in future.
Globally, Trina has 10% of the market share in rooftop solar. "Rooftop is just beginning in India. It will take some time. Trina has started one-stop product for rooftop," Helena Li said.
Asked if she saw a slowdown of solar power in India, Helena said India had aggressive solar targets. Ten gw a year of new solar power generation is a big target.
"But orders are overheated and more challenging for investors. The government's intention is still there. One cannot grow at 30-40% always. There will be some slowdown and this cannot be seen as a setback or government has taken a back seat as India is still a big market for solar," she said.
"I don't think we are taking a back seat. India always has an aggressive target," added Helena.
Regarding safeguard duties, she said it is not new to Trina Solar. It was the anti-dumping duty in the US, then in Europe and now safeguard duties in India.
In the case of India, she said Trina Solar can supply solar PV panels from its factories in Thailand and Vietnam, where this safeguard duty will not apply.
Safeguard duties apply to imports of solar panels from China, Indonesia, Taiwan, and Malaysia. However, solar panel imports from Vietnam and Thailand are exempt from safeguard duties.
Also, solar PV prices are falling. So to that extent prices will fall and hence, overall, there will be no impact as Trina Solar has multiple sources of supply, She said.
Junheong Ku said by early next year Trina Solar will launch bifacial solar panels in India to improve conversion of solar rays into power manifold. In the traditional solar panels, the conversion rate is around 10-12% whereas, in bifacial modules, it is around 30%. Now research is on to improve it further.
Bifacial modules have many other advantages as well over traditional solar panels. They are more durable as both sides are UV resistant and can generate three times more electricity than conventional panels.
LOW VOLTAGE
40gw – Target to set up rooftop solar power by 2022
3gw – India has commercial and residential solar rooftops
25% – Safeguard duty imposed on solar panels
Source: dnaindia