An ETEnergyworld analysis shows how the growth of the renewable energy capacity is at risk owing to the lockdown imposed across states
New Delhi: India's top 10 worst-hit states in terms of confirmed coronavirus cases also happen to be those which registered maximum addition of solar and wind energy generation capacity in 2019.
There is no causal link between the geographical spread of coronavirus infections and renewable energy capacity addition. An ETEnergyworld analysis shows how the growth of the renewable energy capacity is at risk owing to the lockdown imposed across states.
The analysis that superimposed the two data sets, obtained from government records, shows states such as Tamil Nadu, Karnataka, Rajasthan, Andhra Pradesh and Madhya Pradesh — with some of the highest coronavirus infections — added a total of 4,880 MW of solar and 24,949 MW of wind capacity last year.
Speaking of the effects the lockdown can have on worst-hit states, Ashish Khanna, president – renewables, Tata Power and managing director and chief executive officer, Tata Power Solar, said that operations of existing plants will not be impacted, however, underdevelopment projects will be affected.
"As far as the operations of the existing plants are concerned in the industry, there is not much of a challenge. But, underdevelopment projects will get impacted and they are impacted everywhere. They are also affected because any restriction on movement is going to have a major impact on functions as supply chains are very critical for renewable energy business as compared to a typical infrastructure project," Khanna told ETEnergyWorld in an interview.
Tamil Nadu, which added 1,213 megawatt (MW) of solar and 9,286 MW of wind capacity during 2019-20 up to December is also the state with the second-highest number of confirmed cases as on 7 April, 2020. Rajasthan, which is also among the top coronavirus infected states, had added 1,617 MW solar capacity and 4,299 MW wind capacity during 2019-20, according to data.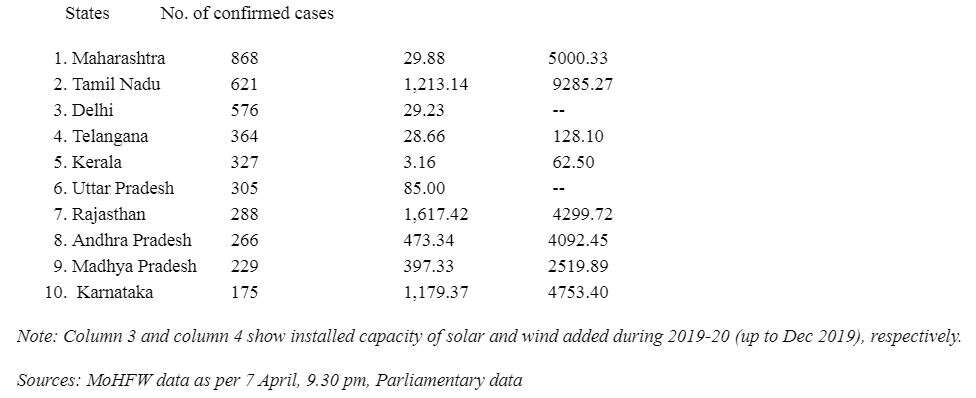 In case the worst hit states impose longer lockdown periods it can result in an extended hit to the growth of the solar and wind energy capacity. "As long as discoms remain on reduced demand, their financial health will be strained. In the short term, this is not good for renewable energy as gencos need to be paid," said Mahua Acharya, Asia director, Climate Policy Initiative, a think-tank.
She added that it is great the ministry of new and renewable energy has mandated renewable energy to be "must run" so as to avoid a hurt to the clean and green energy growth. Acharya also said a few states like Rajasthan and Tamil Nadu were already at the brink of "over supply" of renewable power and require more integration technologies.
In terms of solar photovoltaic (PV) installations, too, the states with the highest capacity additions in 2019 were those with the highest number of infections, according to research and consultancy firm Wood Mackenzie.
"On the solar front, the states of Karnataka with 2.0 GW, Tamil Nadu with 1.6 GW, and Rajasthan with 1.7 GW were the top three states accounting for 55 per cent of solar PV installations in 2019. All of which are in the top 10 worst-hit states," WoodMac said in a statement on Monday.
It added that India could face over 21.6 per cent or 3 GW of solar PV and wind installations being delayed as a result of the lockdown. The current support measures taken by the government to mitigate the downturn were warranted, but if the virus situation continues to escalate and the lockdown is extended, there would be severe financial impact on utility companies, it said.
"Consequently, solar PV and wind installation developers' cash flows will also be affected, and corporate bank loans for new project development could slow to a trickle," WoodMac said.
According to the WoodMac research, with over 3 GW of wind projects under construction scheduled for 2020 completion, supply and labour disruptions from the current lockdown could delay 400 MW into 2021, equating to a downgrade of 11 per cent for 2020.
Similarly, solar PV installations were also expected to be hit hard as the industry is heavily dependent on Chinese module imports which have been disrupted due to the virus outbreak.
Source: energy.economictimes.indiatimes