Subsidies, loans, charging network in Delhi Electric Vehicle Policy
New Delhi : The Delhi government on Friday launched its ambitious Electric Vehicle (EV) Policy, which aims to boost Delhi's economy, reduce pollution levels and generate employment. Announcing the launch of the policy, which was notified on Friday morning, chief minister Arvind Kejriwal said it was one of the most progressive in the world and will make Delhi a world leader in the field of electric vehicles.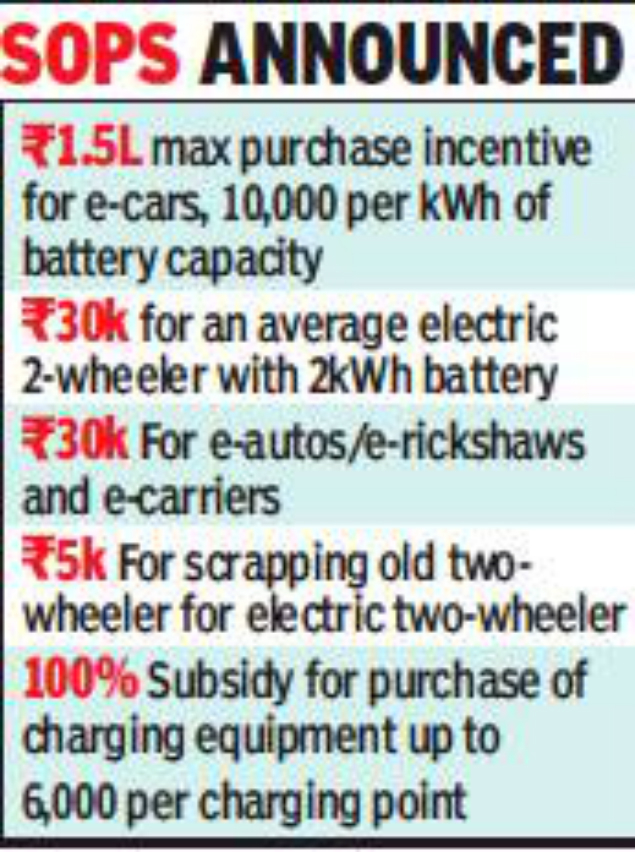 The policy aims to push the adoption of EVs by creating an entire ecosystem in Delhi – giving incentives for buying EVs and for scrapping old vehicles, pushing for more EVs as commercial vehicles, creating a robust charging infrastructure, ensuring funding through various sources, which include a congestion charge, and a monitoring mechanism to ensure timely implementation.
Aim to have a charging station every 3km, says Kejriwal
The CM said Delhi government wants electric vehicles to comprise 25% of the newly registered vehicles across the city by 2024, compared to only 0.2% at present. It wants five lakh electric vehicles in Delhi in the next five years.
"Electric vehicles are quite costly today. The Delhi government will be giving financial incentives so that more and more people purchase electric vehicles," he said. The government is providing a subsidy of up to Rs 30,000 on the purchase of electric two-wheelers, autorickshaws, e-rickshaws, freight vehicles etc and Rs 1.5 lakh on cars. This is in addition to the incentives and subsidies provided under Centre's FAME-II scheme. The government will also offer loans to people at low-interest rates to purchase vehicles, and registration fees and road tax will be waived.
Kejriwal said one of the many reasons people do not purchase electric vehicles is that charging is not as easily available as, say, petrol pumps. "Keeping this in mind, a huge network of charging stations will be created in Delhi. Our target is to create 200 charging stations in the next one year in the city. Our aim is to have a charging station every 3km," he added.
"We have prepared the electric vehicle policy in Delhi after working hard in the past 2-3 years and holding discussions with consumers and experts," Kejriwal said. He observed that China is considered to be the leader in EVs, but, in the next five years, Delhi will be leading the way.
"In the past few days, the Delhi government has taken various measures to kickstart the economy. We launched the Rozgaar website, we reduced the price of diesel, we allowed street vendors to start operating and undertook many other measures," he said, adding that the EV policy would boost Delhi's economy and help create jobs.
"In the past five years, the people of Delhi have worked together to reduce pollution levels by 25% but we have to reduce them further. During the pandemic, we saw that there was a drastic reduction in PM10 and PM2.5 levels. We could see clear skies and feel the clean breeze," he said. "Now when we are opening up the economy and moving towards a normal life, we do not need the kind of development which leads to pollution. Let us come together and build a Delhi of the future, which is a Delhi with clean air and where we can breathe easily, and which is sustainable. This EV policy will work in that direction of reducing pollution levels, boost the economy of Delhi and create jobs for people," he added.
Kejriwal said wide-ranging consultations were held, experts from across the country were consulted and electric vehicle policies of many other countries were studied to incorporate all the good points. He said that the policy would be reviewed after three years and, if required, changes will be made.
A state electric vehicle board, chaired by transport minister Kailash Gahlot, will be constituted for effective implementation of the EV policy, besides setting up a dedicated EV cell and a state EV fund, which will encompass all the expenditure.
Source : timesofindia