In a battle of billionaires, Sheldon Adelson and Warren Buffett are squaring off over who controls the power that keeps the bright lights blazing in Las Vegas and across Nevada.
Adelson, the Republican mega-donor and founder of the Las Vegas Sands Corp., is backing an initiative on the Nov. 6 ballot that lets customers choose their own power provider by 2023. At risk is NV Energy Inc., a utility owned by Buffett's Berkshire Hathaway Inc. that now holds a virtual monopoly in the state. The total cost of the fight so far: Almost $100 million.
The initiative gained 72 percent of the vote in 2016, but needs to win a second consecutive ballot to become law. A September poll showed the initiative trailing by 19 percentage points, but with 16.4 percent of residents undecided. At the same time, the renewables industry has been largely uncommitted, citing a lack of detail on how it may play out.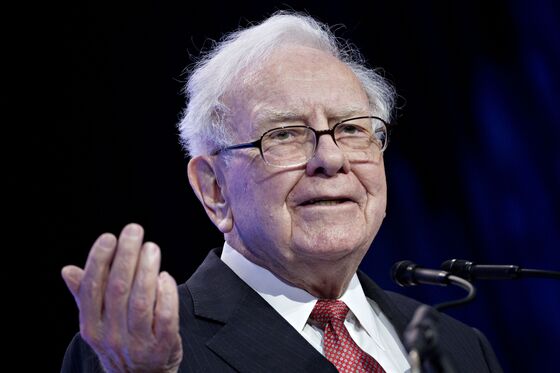 "At the highest level, you have a couple billionaires slugging it out," said David Damore, a professor of political science at the University of Nevada, Las Vegas. "It's a very complicated issue, one that probably shouldn't be handled at the ballot box, given how much uncertainty there is around it."
The proposition, which seeks to amend wording in the state constitution, has prompted one of the most heavily financed political battles in the current U.S. election cycle. The amount raised for it exceeds the $91.6 million spent in the state's high profile U.S. Senate race, and the $40 million battle over energy use in Arizona, Nevada's southern neighbor.
Meanwhile, it's not the only energy initiative being fought out in Nevada. Another billionaire, Tom Steyer, a Democratic mega-donor, is supporting a push to require half of the state's electricity to come from renewables by 2030, mirroring his similar effort in Arizona. Steyer said in an interview he's not involved in the energy choice initiative.
The battles in both states come as the U.S. power industry is grappling with a historic transformation. Cheap solar and wind power, along with better battery storage, are emboldening homeowners and businesses to go it alone, loosening the grip of utilities that once owned and distributed all of the electricity in their regions.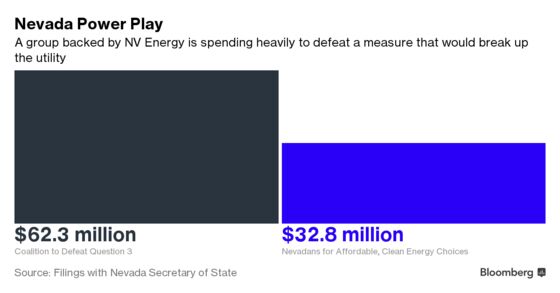 In California, cities and counties dissatisfied with utilities' pace of adding clean power are creating their own power agencies. In parts of the Northwest, utilities — including owned by Berkshire — and renewables developers have been at loggerheads over a 40-year-old law that was partly intended to boost clean power.
An April report by state regulators found that NV Energy would likely be forced to sell its power plants and assign its power-purchase contracts to new owners if the energy choice measure is adopted. That could saddle Nevada ratepayers with potentially several billion dollars in costs to pay for the so-called "stranded assets," but those expenses would diminish over time, the report said.
The Coalition to Defeat Question 3, backed by NV Energy, is labeling the initiative in media ads as "risky" and "expensive," and says it will disrupt progress toward getting more renewable energy. State filings show the coalition has raised $62.3 million in cash to pursue its fight, with all but $12,000 of it coming from the utility.
'Potential to Dismantle'
NV Energy said in an Oct. 26 statement that it's backing the coalition as a way "to make sure all Nevadans have the facts about this risky and costly constitutional amendment, which has the potential to dismantle an electricity system that already provides low costs, increased clean energy production, great customer service and industry-leading reliability."
Berkshire didn't respond to a request for comment left with Buffett's assistant.
Not surprisingly, proponents of the initiative disagree. "As we have seen across the country, energy monopolies aren't working for ratepayers," said David Chase, with Nevadans for Affordable, Clean Energy Choices. "We think a competitive market will lower electric bills, create more jobs and be better for renewable energy."
That group has raised almost $33 million in cash, including about $21.9 million from Las Vegas Sands and $10.9 million from data center provider Switch Inc. Las Vegas Sands and Adelson declined to comment for this story.
Meanwhile, even with the word "renewables" being tossed around liberally by both sides in the battle, companies that provide solar and wind remain largely uncommitted. Their concern: the devil is in the details.
Worrisome Thing
While the initiative authorizes energy choice, seen as a good thing, it leaves specifics as to how that might happen up to the state legislature, seen as a worrisome thing. At the same time, there's uncertainly over the fate of existing power-purchase agreements with NV Energy in the event that the measure passes.
The Solar Energy Industries Association (SEIA) hasn't taken a position on the initiative, according to Sean Gallagher, the group's vice president of state affairs. "It's not clear under a choice regime how things like the renewable portfolio standard or net-metering would apply," Gallagher said. "It leaves a lot to be determined at a later date."
NV Energy has signed a slew of deals in Nevada to buy cheap clean power. But Berkshire's record in the state, as elsewhere, is mixed. While Berkshire isn't shy about trumpeting its status as a major renewables owner — it's the second-biggest owner in the U.S. — its Nevada utility three years ago backed the rollback of credits that had buoyed residential solar in the state. That effectively paralyzed the industry until Nevada's outgoing governor signed a bill last year to restore the credits.
Years Coming
The push to break NV Energy's monopoly has been years in the making. It came after casino owners Wynn Resort Ltd., MGM Resorts International and Caesars Entertainment Corp. paid millions to leave NV Energy and buy power from other providers. Las Vegas Sands, the company run by Adelson, declined to pay a fee to exit and instead backed the energy-choice initiative, known as Question 3 on the November ballot.
Nevada has flirted with deregulating its power market previously, though the most serious consideration before this recent push preceded Berkshire's ownership of NV Energy. In the mid-1990s, Nevada was among the states that approved legislation to create a competitive power market. But the 2000 energy crisis in California and the ensuing Enron scandal contributed to the state halting that effort, according to a government document in July. So, the Silver State's power sector remains vertically integrated.
"There's a lot of uncertainty surrounding this," said Colleen Regan, a San Francisco-based analyst at Bloomberg NEF. "Are there protections in place to ensure that consumers are not taken advantage of? Is it open to everyone?"
Source: Bloomberg L.P.