China's Datang, Huadian Await Final Merger Approval
State-run China Datang Corp. and China Huadian Corp. are in talks to merge and awaiting final government approval for a deal that would create the world's biggest power generator by capacity, according to people with knowledge of the situation. Shares of their listed units rose.
The two electricity producers have reached agreement on most technical issues for a deal, said the people, who asked not to be identified because the information isn't public. They are now waiting for approval by China's State Council, which may or may not authorize the combination, said the people.
Datang's listed unit Datang International Power Generation Co. rose as much as 5.6 percent in Hong Kong. Huadian subsidiary Huadian Power International Corp. added as much as 2.2 percent. China Datang Corp. Renewable Power Co. and Huadian Fuxin Energy Corp. both advanced 2 percent.
"The merger talks, if true, fall in line with China's long-stated strategy to cut the number of state-owned enterprises in the same industry," said Tian Miao, an analyst at Everbright Sun Hung Kai Co. "It also enhances competitiveness of the few to allow them to compete more effectively in domestic and international markets."
President Xi Jinping has pledged to shake up the country's state-owned enterprises as part of the government's so-called supply-side reforms to eliminate excess capacity. Regulators are also seeking to lower the country's reliance on coal and expand the use of renewables and natural gas.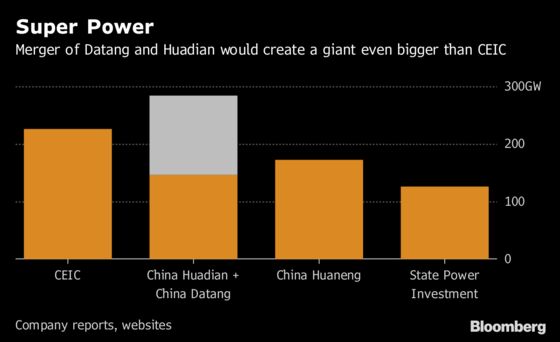 Huadian hasn't heard about such a merger or received notice from the government on the matter, a Beijing-based spokesman said by phone. Datang didn't reply to a fax seeking comment and the company's Beijing-based spokesman wasn't reachable by phone. The National Development and Reform Commission and the State-owned Assets Supervision and Administration Commission, which are overseen by the State Council, didn't respond to faxed questions seeking comment.
The companies have recommended that a third company, either a coal group or nuclear power utility, be involved in the merger, the people said.
The Huadian-Datang merger could create a company with total installed capacity of about 284 gigawatts, according to their 2017 annual reports, topping China Energy Investment Corp.'s 226 gigawatts as the world's biggest generator. Total combined assets could reach 1.53 trillion yuan ($221 billion), less than China Energy's, which are in excess of 1.8 trillion yuan.
The combined revenue of the two companies based on last year's results equals about 366 billion yuan ($52.9 billion), more than the 313 billion yuan posted by China Energy Investment, according to data compiled by Bloomberg.
To contact Bloomberg News staff for this story: Aibing Guo in Hong Kong at aguo10@bloomberg.net;Steven Yang in Beijing at kyang74@bloomberg.net