Covid Hits Clean Energy in Developing Nations After Record Year
Investment in clean energy is slowing in developing countries this year after a record-breaking $32 billion flowed into the business in 2019, according to an analysis by BloombergNEF.
Last year's foreign direct investment in developing countries rose by a third from 2018 as solar and wind farms increasingly became a cost-competitive alternative to fossil fuels, BNEF found in its annual Climatescope survey.
The report examining investment trends in more than 100 nations showed that emerging-market economies made up about 58% of the $249 billion in asset finance plowed into utility-scale clean energy capacity worldwide last year.
"2019 was a year of firsts, for the most part in good ways," said Luiza Demoro, the lead author of the BNEF report. "The surge of capital we saw flow into emerging markets suggests that investors had become quite comfortable with the risks involved with financing new wind or solar there."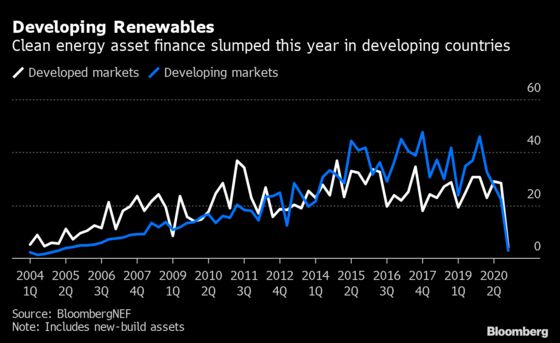 While the BNEF report didn't cover 2020 in detail, early signs show this year will see a reversal of last year's trend. Capital flows into developed markets outpaced flows into developing markets during some quarters this year, the first time that's happened since 2016.
During the first three quarters of 2020, developed nations obtained about 76% of the clean energy financing they saw in 2019, putting them on track to match last year's total. Meanwhile, emerging markets have seen 58% of last year's total through three quarters. That means emerging economies could finish 2020 with the steepest year-on-year drop ever recorded by BNEF.
"A multi-year pandemic could bring an even more dramatic decline in investment and has the potential to disrupt the energy transition in many developing economies," Demoro said by email. "This underscores the need for a sustainable recovery by making the best possible use of already strained public finances to attract private investment from both national and international investors."
Source: BloombergQuint