No One Else Built Charging Stations, So Automakers Will Do It
After years of hesitation, the car industry understands it needs to create refueling networks for electric vehicles.
Just a few years ago, automakers had a largely uniform response to questions about the construction of refueling stations for electric vehicles: "Not my job." Today, they're starting to realize that no one else is going to build stations at the scale needed to stimulate sales of battery-powered cars, so they'll have to do it themselves. "Charging infrastructure is a bottleneck," says Andreas Tschiesner, head of the European automotive practice at McKinsey & Co. Carmakers are "ready to get the ball rolling because nothing is happening on its own."
Volkswagen, Daimler, Ford Motor, and BMW have teamed up to create Ionity, a company that's building charging stations across Europe. VW has formed Electrify America, a unit that will spend $2 billion on stations in the U.S., and the German company is considering a similar operation in China. Porsche is installing chargers at dealerships and is working with BMW and Siemens to develop ultrafast charging. And Japan's big manufacturers have set up a company to promote installation of quick chargers.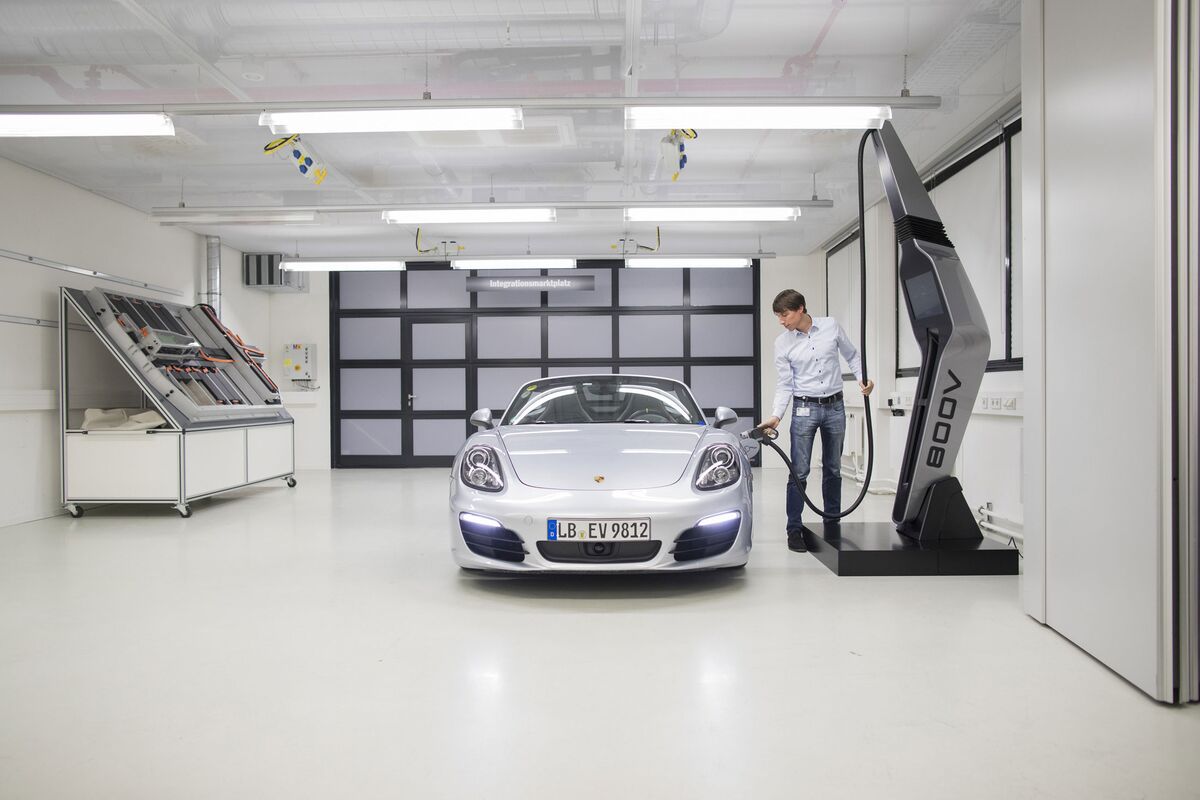 The moves come as automakers are preparing to flood the market with EVs. Carmakers worldwide will spend $255 billion in the five years to 2023 developing more than 200 battery-powered models, consulting firm AlixPartners predicts. General Motors Co. expects to sell 1 million electric cars annually by 2026. Volkswagen says it'll have 50 such models by 2025, BMW will have a dozen, and Renault eight. To persuade customers to buy them, "carmakers need to create a positive charging experience," says Colin McKerracher, an analyst at BloombergNEF.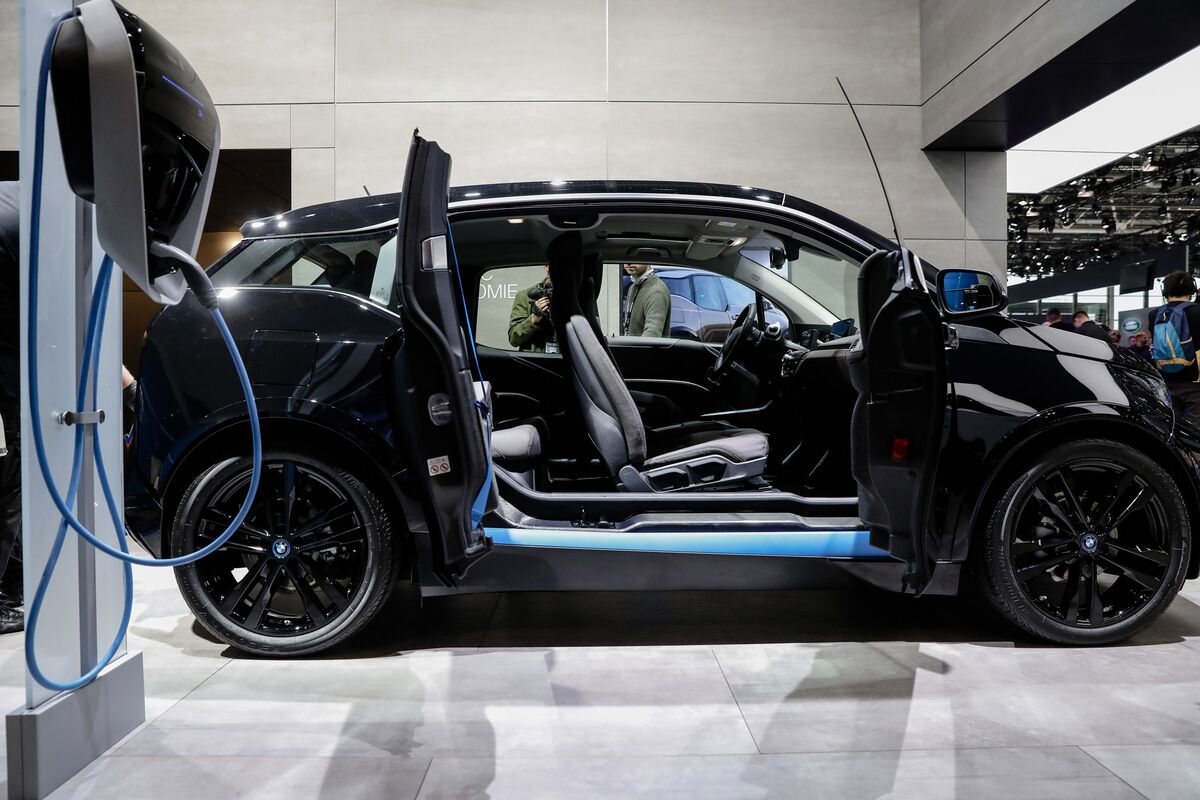 About 80 percent of EV charging today is done at homes or offices, but surveys show refueling on the gois a key concern for consumers: Forty-one percent of Germans and 36 percent of French fear not being able to refill their battery—more than double the percentage that cited insufficient range as an impediment to going electric. And as the technology spreads, more buyers will be apartment dwellers and other car owners who won't have a dedicated parking space with easy access to a plug. The International Energy Agency predicts the global fleet could be about 30 percent electric by 2030, which would require as many as 30 million public chargers—50 times the number today. But the economics of building them are tough. Fast-charging stations need at least eight customers a day to break even, and many of them struggle to get half that, BNEF says.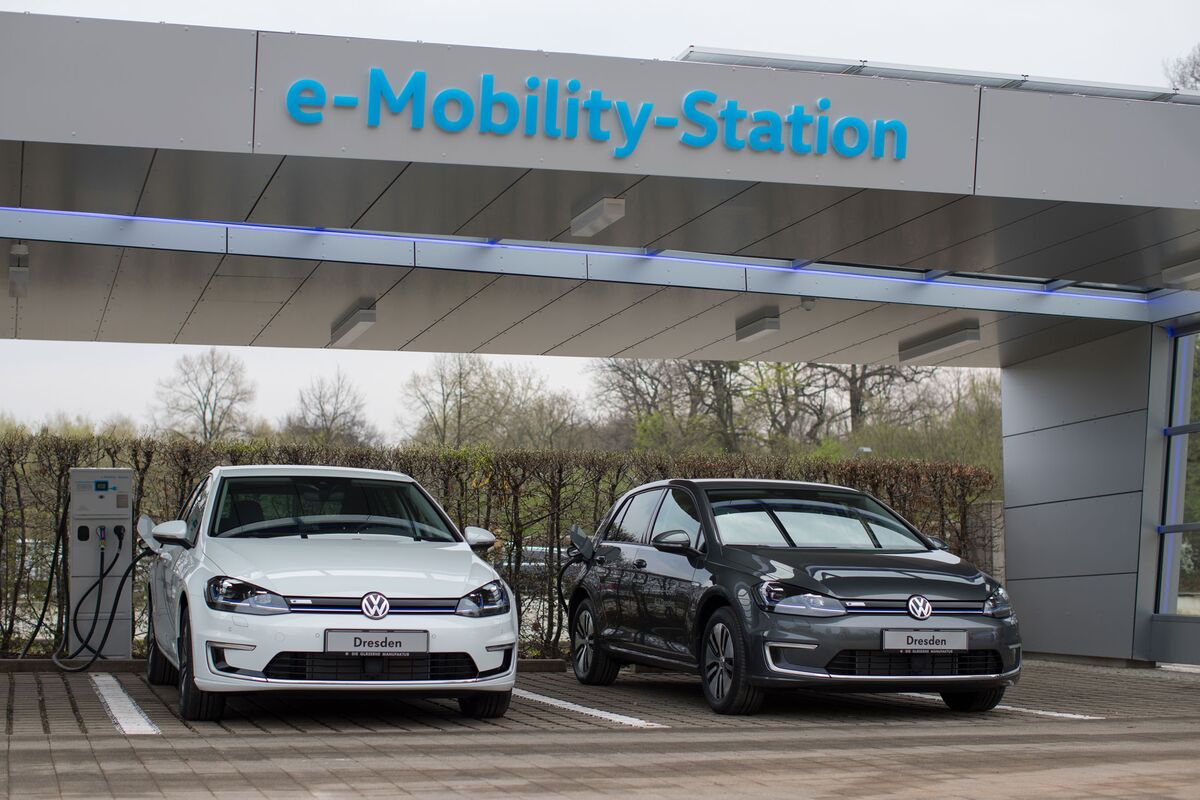 The risk is that if carmakers build their own networks, charging will become more atomized than it already is. Globally, there are more than a dozen plug types with at least eight charging speeds, and to access them as easily as tanking up at the local Texaco, Shell, or Kwik-Stop would require multiple subscriptions with various providers. "When you're traveling farther, you need fast charging," says Hakan Samuelsson, chief executive officer of Volvo Cars, which introduced its first all-electric car in February. "Unfortunately it's a bit of a jungle" of different systems today.
The exception among manufacturers is Tesla Inc., which in 2012 started building so-called superchargers to serve buyers of its cars. Today it has nearly 13,000 docks in more than 1,400 locations on four continents. It's little surprise, then, that Tesla is the market leader, selling almost 400,000 EVs since 2010. Even so, the company's chargers can be hard to find and aren't always operational. As extensive as it is, the current network "is not going to be relevant if Tesla sells a million cars every year" as it ramps up production of the lower-cost Model 3, says Ashish Khanna, a partner at L.E.K. Consulting, which advises auto companies on the shift to electric power. "Undoubtedly, they will need to build it out further."
hyperdrive-tout-final
Ionity, the automakers' joint venture, in April built its first fast-charging station, in Germany. By mid-2020, it will have 400 rapid-power stations across Europe, or about one every 120 kilometers (75 miles) along the continent's superhighways. The network will feature charging docks, compatible with most cars on the road, that are 50 percent more efficient than Tesla's, able to add 200km of range in 8 minutes. While today's cars won't be able to charge at that rate, next winter Porsche expects to introduce the Taycan, an all-electric sedan that can take full advantage of the Ionity network. And Electrify America LLC, funded with money from VW's settlement of lawsuits over cheating on diesel engine emissions, says it has more than 100 charging sites and by July plans to have almost 500 that will work with most EVs. "The flood of cars is coming," says Brendan Jones, Electrify America's chief operating officer. "We want to get the infrastructure in place." —With Niclas Rolander, Brian Eckhouse and David Stringer
BOTTOM LINE – Automakers will spend $255 billion developing hundreds of e-car models by 2023, and will need a wide network of charging stations to persuade customers to buy them.
Source: bloomberg