Government stresses on creation of green jobs, but we need a growth plan strategy, say academicians and industry experts

In a world where sustainable development and transition to a greener economy is the need of the hour, there seems to be a shortage of skilled workforce in the green sector.
Recent Budget emphasized on creating Green Businesses, for which traditional education ecosystem must integrate the green skilling component in the formal and informal sector.
"Green jobs have to be created as a key element of a green growth path in the Indian economy to reduce ingrained structural inequalities," says Anandajit Goswami, coordinator, Management Development Programme and faculty, course instructor, Art and Sustainability, Department of Policy Studies, TERI School of Advanced Studies (SAS).
"The need for such an integrated development path is not new. It was first recognised by the Thirteenth Finance Commission of India in 2009. With joblessness among the rural men in the 15-29 age group tripling to 17.4% in 2017-18 compared to that in 2011-12 (National Sample Survey Office estimate), new employment creation through green jobs is the way out," he says.
Academia's role
There is a shortage and mismatch between the skill requirement and availability in the green sector. "We need to completely revamp our primary and secondary education from an exam-oriented to a skill based system. In higher education, institutions need to constantly assess their existing sustainability courses every six months by questioning the modules to see how creative exposure to real-world problems can prepare students."
Rural economics
In India, where more than 65% of the country resides in villages, jobs by nature have to be green. "Historically, we have emphasized on greener, self-sustaining and localized system. So green is in the DNA of rural India and we have to revive it to overcome the mess created through crazy urbanisation. The question is, how do we balance – nature, green, progress, growth, ecology, culture and technology by filtering the cannibalism of an exponential growth process which is not organic. Green jobs is just one instrument to attain it," says Goswami, an economist and social scientist whose own institute has initiated Management Development Programmes to conduct short certificate programmes on sustainability solutions.
Facing the future
According to Goswami, if the Union Ministry of New and Renewable Energy (MNRE) commissions 15.62 GW of new renewable energy capacity in 2018-19, and implements a target of 11 GW of solar capacity, such an investment push in the renewable energy sector will generate demand for new goods and services, and can create direct and indirect, skilled and unskilled as well as full-time and part-time jobs.
He adds further, "As per a recent estimate by Council On Energy, Environment and Water (CEEW) and National Research Development Corporation (NRDC), the solar sector alone can create one million full-time-equivalent jobs by 2022 to achieve 100 GW grid connected solar power. However, if rooftop solar gets priority, job creation can touch 1.3 million."
Green business
"In the Budget, the government has announced installation of 17.5 lakh solar photovoltaic pumps for farmers which would create about 1 lakh full-time jobs," says Praveen Saxena, CEO, Skill Council for Green Jobs, having over 500 training partners delivering skill programmes to over 55,000 youths.
"Covering the entire gamut of Green Businesses, we have been advising the traditional education ecosystem on how to integrate the green skilling component in the formal and informal sector," Saxena says.
"Currently, the green business sector generates about 20 lakh jobs, excluding waste management which is largely unorganised. It is estimated that about 2 crore additional jobs by 2030 due to strategic shift towards sustainable development and climate justice," Saxena informs, envisaging the need for corporate training and upskilling courses in the green domain to keep up with technological advancements.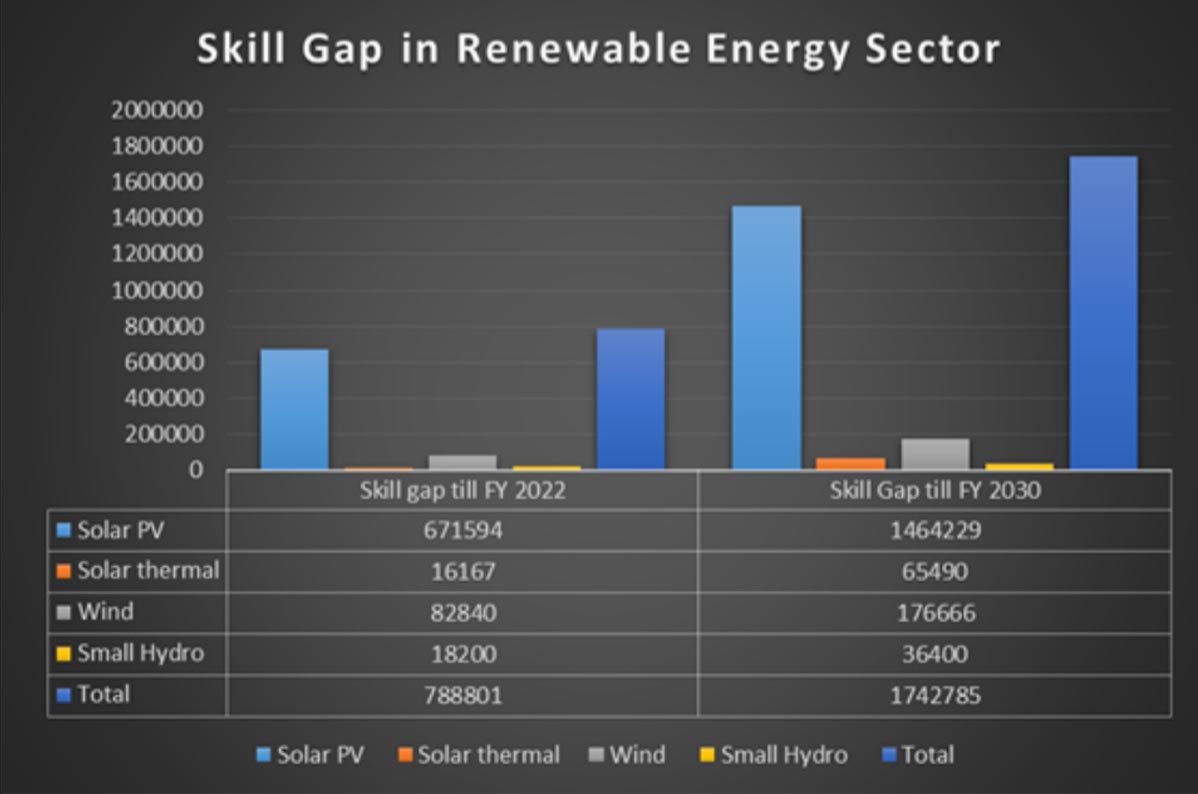 Courtesy: Skill Council for Green Jobs
Source: timesofindia.indiatimes