German Green Power Likely Beat Coal Output for the First Time
Renewable energy in Germany probably matched or beat coal power generation for the first time, aided by favorable 2018 weather that boosted wind and solar capacity.
The balance of German electricity generation is a closely watched measure by the government, which has funneled billions of euros toward boosting renewable energy in recent years. The estimates, which showed wind, solar, biomass and hydro plants equaled or exceeded the electricity generated from burning hard coal and lignite, were made by leading monitors including the BDEW utilities lobby and Frauenhofer Institute show.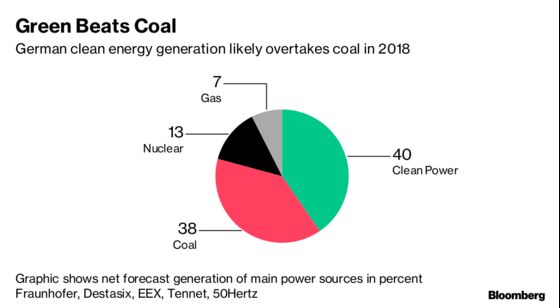 Clean energy accounted for 35 percent of generation this year, level with coal, the BDEW said Wednesday, citing provisional data based on gross output. Fraunhofer Institute said green electricity's 2018 share was 40 percent compared with 38 percent for coal. The institute employs the gauge of net generation, meaning total generation minus share used by power plants.
Pressure on the government to tame the cost of the energy shift is rising. The installed capacity of clean power plants in Germany overtook coal in 2010, though it's taken eight years to catch up with the fossil fuel in output.
By this year, clean power capacity added as many as 111 gigawatts, more than double the 45 gigawatts vested in coal plants.