At the turn of the last year, Union power minister R K Singh announced that from April 1 2019, India would not face any blackouts, except in a couple of sectors like agriculture where electricity is not required 24×7.
The minister made the statement in the context of state distribution companies, or discoms, often resorting to wilful blackouts in order to avoid purchase of spot power at high prices.
"If they do, they will invite stiff penalty from state regulators, who will also tally area demand with PPAs (Power Purchase Agreements) to see whether the utilities have lined up adequate supplies. Only blackouts due to technical issues or natural calamities will be exempted from penalties," Singh said on Tuesday.
In order to achieve zero load shedding, is there need to add power capacity in the New Year?
No significant capacity needs to be organically added, and the additions would largely through the inorganic route as the existing capacity is sufficient to meet with the gradual rise in power demand, experts said. The government is also simultaneously adding green energy sources, reducing larger capacity additions through conventional sources.
"A total of approximately 12.5 gigawatt (gw) will be added in 2019. This largely would be through renewable energy additions. I expect about 8 gw of renewable and approximately 4.5 gw of thermal power to be added in the next one year," Sandeep Upadhyay, managing director & chief executive officer of Centrum Infrastructure Advisory, told DNA Money.
Rahul Prithiani, director, Crisil Research, differed.
He said about 20 gw of capacity would be added during the next 12 months. "These will be mostly be coal-based capacities, which are in advanced stages of construction. Capacity additions are expected to be low on account of strong capacity addition growth over the past five years far outpacing the demand growth over the same period, leading to lack of new PPAs as well as a part of coal-based generation capacity lying under-utilised in the system," said Prithiani.
Whereas, on the renewable energy front, specifically solar power, there would be a slowdown in addition to about 7 gw as compared to the previous year (9.4 gw) due to several issues affecting this segment. However, the wind capacity addition is expected to be slightly better than FY2018 (1.8 gw) but lower than the all-time high of FY2017 (5.4 gw).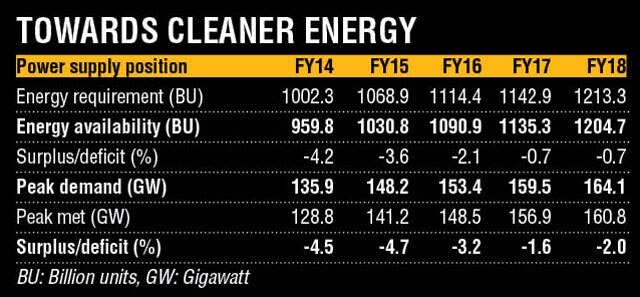 A recent Crisil report said over a period of five years, including 2019, the conventional power capacity additions are expected to slow down significantly, given low utilisation of existing assets, rising share of renewables and financial stress in the sector.
"In fact, well-capitalised players are opting for the inorganic route to expand capacity as assets are available at attractive valuations. We expect an estimated 26-28 gw to be added over the next five years. These additions will be dominated by central and state utilities, with share of private sector expected to less than 20%," the report said.
In the previous four years, there has been a decline in thermal capacity addition, with the least being recorded in FY2018 of 0.3 gw. Likewise, the plant load factor, or PLF, of private thermal plants, too, has been falling. For example, in FY2014 the PLF was at 62.1% that touched 55.3% in FY2018.
Whereas on the demand side, over the last few years, the demand has continued to pick up and it is expected that there would be a continued gradual pick up.
Though the additions would happen, the deficit would still remain, albeit marginally. This is why the power minister was categorical in stating that load shedding in a couple of sectors would be permitted like that of agriculture, where electricity is not needed round the clock. In FY2017, the power deficit was 1.6%, which marginally increased to 2%.
"We expect power demand to gradually continue to pick up and log a compounded annual growth rate of around 6%. This will be led by increasing hours of supply and intensive electrification drive. However, with a thrust on the renewable power side as well as making devices more energy efficient, these would remain challenges for energy growth," said an analyst.
Prithiani said, "Power demand is expected to be healthy on account of revival in economic activity, government spending on infrastructure projects, investments in transmission and distribution infrastructure and intensive electrification of households across country under schemes like Deen Dayal Upadhyaya Gram Jyoti Yojana, Integrated Power Development Scheme and Saubhagya."
Source: dnaindia