NEW DELHI: The government's efforts at accelerating green energy capacity through large-scale auctions suffered a jolt yet again on Friday as bidders shunned the auction for 1,200-MW 'hybrid' projects, forcing state-run Solar Energy Corporation of India to extend the deadline for the fifth time.
This is the second renewable project auction to have flopped in a month as policy paradox kept investors away taking the aggregate capacity to have been annulled till date to over 10.8 GW (giga watt). This could deal a blow to the Centre's target of installing 175 GW (giga watt) renewable energy capacity by 2022.
The tender for the hybrid projects, which entail housing wind and solar power units at the same site, has been extended till November 14. Investors kept away in spite of the tender being halved from 2,500 MW.
The absence of bidders had last month forced SECI to extend for the fifth time till November 12 a tender for setting up of 10 GW solar power projects, entailing setting up 3 GW per annum solar manufacturing capacity, a day before its September 12 closing date.
Reduction of tender size and extensions have become the order of the day. Industry bodies say this has created uncertainty among domestic players and is making foreign investors wary. Allegations of cartelisation by bidders levelled by the ministry recently hasn't helped sentiments either.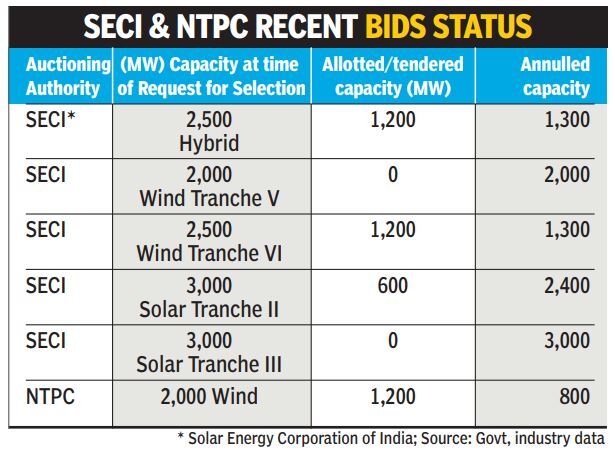 Developers say capping of tariff in competitive bidding turns investments unviable. They say competition, wind density and solar irradiance should determine tariffs. SECI had set the tariff ceiling for the hybrid projects at Rs 2.60 a unit. Developers say this doesn't work for them and point to the tariff of Rs 2.76 discovered at a recent SECI bid for wind power projects. They say this tariff was discovered because promoters were forced to bid with Category B or lower quality land since there was no land available under Category A 'wind density'. Since the same applies to hybrid projects, the tariff ceiling is unviable.
For solar tenders, much of the blame for lack of interest among promoters lies with the safeguard duty imposed by the government recently and the subsequent decision to allow promoters to pass the impact on to consumers, while setting a tariff ceiling.
In May, SECI had tendered 5 GW of manufacturing capacity to be set up across the country. The manufacturing capacity was to be linked to ISTS-connected solar projects for an aggregate capacity of 10 GW. But subsequently, SECI reduced the capacity of the manufacturing tender from 5 GW to 3 GW. The minimum capacity developers could bid for manufacturing too was reduced from 1 GW to 600 MW (mega watt).
In the case of the tender for setting up of 10 GW (giga watt) solar power projects linked with 3 GW per annum solar manufacturing capacity, SECI had set a tariff ceiling of Rs 2.75 per unit, which kept investors away.
Developers say the tender forced them to enter manufacturing business, which is not their core competence. Companies can bid for minimum 2,000 MW PPA, following which 600 MW of solar manufacturing capacity must be set up. Another deal breaker is the offtake commitment of two years from the government, while developers feel at least five years is needed to match efficiency of Chinese manufacturers and subsidy they enjoy.
India is dependent on China for 85% of the solar equipment used in the country and developers find it difficult to compete with Chinese solar panels without any support from the government. The maximum permissible tariff also acts as a deterrent in the case of projects that also entail setting up manufacturing capacity.
Source: timesofindia.indiatimes